Oklahoma City sweep Cavaliers with 100-83 win
Russell Westbrook was more introspective than usual on Wednesday night.
Last year's Most Valuable Player moved into a tie for third place on the NBA list for triple-doubles with 23 points, 19 rebounds and 15 assists as the Oklahoma City Thunder completed a regular-season sweep of the shorthanded Cleveland Cavaliers with a 100-83 victory.
Westbrook's triple-double was his third this season — all in the past four games — and the 107th of his career, matching Jason Kidd and trailing only Oscar Robertson (181) and Magic Johnson (138). Kidd took 1,247 games to reach 107, while Westbrook needed only 760.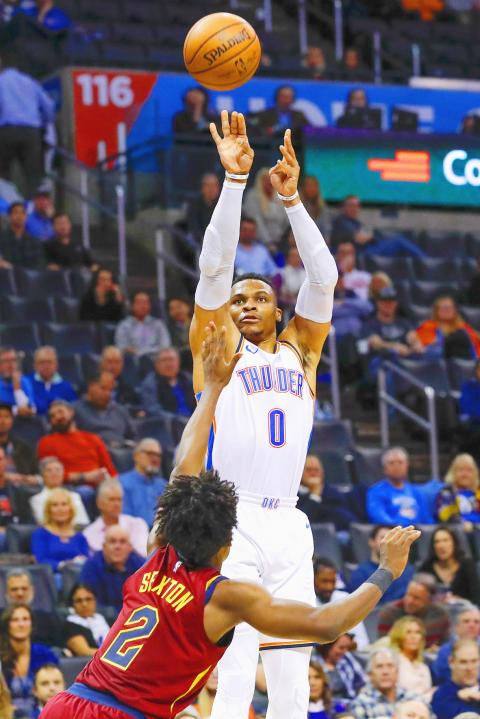 The Oklahoma City Thunder's Russell Westbrook shoots in their NBA game against the Cleveland Cavaliers in Oklahoma City, Oklahoma, on Wednesday.
Photo: AP
The 19 rebounds were one off Westbrook's career high, set in last season's finale against Memphis.
When the star guard addressed the media long after the game ended, he spoke more from the heart than he often does.
"I am extremely blessed and humbled to be able to go out and play and compete in the NBA," Westbrook said. "Just to be named with Jason Kidd and Magic and Oscar and those guys, I could have never dreamed about being able to even sit here talking to you guys. I take everything in and never take anything for granted."
Jerami Grant added 21 points, one shy of his career best, on eight-of-12 shooting for the Thunder, who have won 13 of 16 after an 0-4 start.
Jordan Clarkson led Cleveland with 25 points, while Collin Sexton (21 points, 10 rebounds) and Cedi Osman (14 points, 10 rebounds) each had a double-double.
The Cavaliers agreed to trade Kyle Korver to Utah after the team had arrived at Chesapeake Energy Arena, leaving them with only nine players in uniform. Eight got into the game.
Oklahoma City trailed 55-51 in the third quarter when Westbrook started a 13-0 run with a three-pointer. He capped it by assisting on a dunk by Grant with 5 minutes, 36 seconds left in the period that completed the triple-double and put the Thunder up 64-55.
By the end of the quarter, the Thunder led 73-62 and the Cavaliers got no closer than nine the rest of the way.
"I just thought they physically wore us down," Cleveland coach Larry Drew said. "They wore us down and our execution wasn't as good in the second half as it was in the first. We kind of looked like we were tired in that second half. They took away our ability to move and to try to make plays."
Comments will be moderated. Keep comments relevant to the article. Remarks containing abusive and obscene language, personal attacks of any kind or promotion will be removed and the user banned. Final decision will be at the discretion of the Taipei Times.