China's 'Monkey King' in center stage
FIGHT NIGHT: The 20-year-old from Tianjin who trained in the Shaolin Temple is to face Vince 'Vandetta' Morales tonight in the UFC's first fight card to be held in Beijing
Song Yadong was so obsessed with Chinese martial arts that he convinced his mother to send him off to learn at the feet of the famous Shaolin masters.
He was just nine years old at the time.
"I had watched a lot of kung fu movies, so I wanted to be like my heroes, like Jet Li," Song said. "I went to Shaolin and I trained, getting up each day at 5am. It was harder than I ever expected."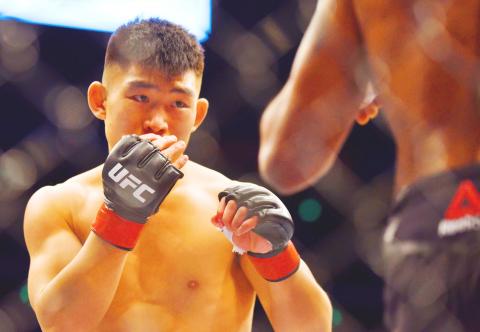 Song Yadong competes against Bharat Kandare of India during their men's featherweight event at the Ultimate Fighting Championship Fight Night in Shanghai on Nov. 25 last year.
Photo: AFP
A decade later and Song's thirst for action has led him into the ranks of the Ultimate Fighting Championship (UFC) and on to the biggest stage in mixed martial arts (MMA).
"I left Shaolin after two years and then I learned about MMA," the 20-year-old said. "I like the action, I like the fact every fight tests you and that you always have to work to be the best fighter you can be."
Song is at the forefront of the Las Vegas-based promotion's push into China, the country many consider the spiritual home of all martial arts, and the Tianjin-born fighter is among nine locals set to take part in the UFC's first fight card to be held in Beijing.
Tonight is the UFC Fight Night 141 event at Beijing's Cadillac Arena, headlined by a blockbuster bout between heavyweight contenders in Cameroonian-Frenchman Francis "The Predator" Ngannou (11-3) and American Curtis "Razor" Blaydes.
However, there is little doubt where Chinese fans' attention — and hopes — will rest.
"It will be the biggest chance for us Chinese fighters and for the sport to grow in China," said Song, who is to face American Vince "Vandetta" Morales.
Song's rise to the UFC has captured China's attention, as has the origin story he carries with him.
When he was 15, Song was so focused on becoming a professional MMA fighter that he used a forged ID card to convince local promotions that he was 18 and legally allowed to fight.
"I was super aggressive back then," Song said. "I just wanted to fight, so I used the fake ID. I looked strong enough so they believed me."
After plying his trade in domestic and regional fight promotions — and racking up 10 wins and three losses — Song received a surprise call in November last year, just weeks before the UFC was set to make its debut in China.
Called in to replace an injured fighter on the UFC Fight Night 122 card, Song needed just more than four minutes to choke out India's Bharat Khandare.
He backed up that performance in June with a second-round knockout of Brazilian veteran Filipe Arantes in Singapore, and so comes to Beijing on a 2-0 run and with a 12-3 win-loss record overall.
"There is still a lot of room for improvement in my skills," Song said. "I am focused on winning step by step, fight by fight. I have been training with [UFC Hall of Famer] Urijah Faber and his Team Alpha Male in California, and I am learning."
"Chinese fighters need more experience, but soon we will be a force," he added.
The UFC has 11 Chinese fighters on its books, a mix of established stars such as the veteran welterweight Li "The Leech" Jingliang and rising stars such as Song and female strawweight Zhang Weili, with all three in action today.
This week the organization announced an investment of about US$13 million in what it called the world's biggest MMA academy in Shanghai, designed to help Chinese fighters make the transition from smaller fight promotions to the UFC octagon.
Song has replaced "The Terminator" as his fight name with "The Monkey King" in reference to the mythical Chinese hero Sun Wukong.
He believes China's rich history in martial arts has the country — and its fighters — well positioned as MMA continues to take hold.
"We have the history in China," Song said. "This is only the beginning."
Comments will be moderated. Keep comments relevant to the article. Remarks containing abusive and obscene language, personal attacks of any kind or promotion will be removed and the user banned. Final decision will be at the discretion of the Taipei Times.