James scores 51, Lakers beat Heat
There was a time when LeBron James getting pestered by Lance Stephenson would have worked out wonderfully for the Miami Heat.
Sunday was not one of those times.
The scenario: It was late in the game, the outcome was decided and Stephenson — James' former rival, now his teammate with the Los Angeles Lakers — challenged him to finish the game off with a three-pointer.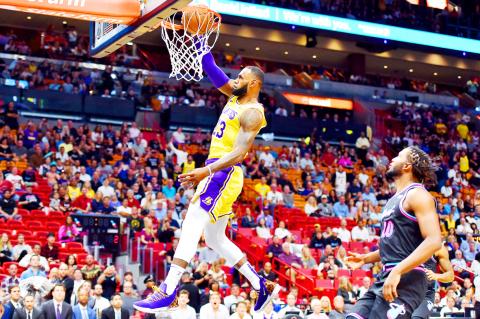 LeBron James of the Los Angeles Lakers, left, dunks against the Miami Heat in their NBA game at American Airlines Arena in Miami, Florida, on Sunday.
Photo: Steve Mitchell-USA Today
"I bet you won't go for the three," Stephenson said.
The Heat probably wish that conversation never took place.
James' capped his 51-point night with a long-range three-pointer in the final seconds and pointed at Stephenson to let him know he was wrong as the Lakers rolled past the Heat 113-97 for their seventh win in their past nine games.
James reached 50 for the 13th time in his career, including Game 1 of last season's NBA Finals.
"It's just playing with greatness," Lakers guard Lonzo Ball said. "Tonight he took the game over."
James shot 19 of 31 from the field, six of eight from three-point range, became the seventh player to score at least 51 in a game against Miami and started his two-game reunion tour in sensational fashion.
The Lakers' next game tomorrow in Cleveland, Ohio, the only other place besides Miami and Los Angeles that James has called home as a professional.
"It's always great to be here," said James, who hugged a slew of familiar faces in the arena he used to call home. "We had some not-so-good times, we had more great times, so it's always a respect factor and a love for the people in Miami, and especially the people who work here."
Finally, he left Miami a winner again.
Since leaving the Heat after the 2014 NBA Finals, James was 0-4 against Miami — his teams were 0-7, when including the three Cleveland-Miami games that he sat out for various reasons.
James put on a show.
The Heat threw a shoe.
It was their fourth straight home loss and frustrations boiled over. Josh Richardson got ejected in the fourth quarter after throwing one of his sneakers into the stands, upset about a call that he felt he did not get moments earlier.
"I just can't let that happen," Richardson said.
Wayne Ellington scored 19 points for Miami (6-10), who are off to their second-worst start in the past 12 years.
The Heat were 5-11 at this point of the 2016-2017 season, the only other time they have been worse after 16 games in that span.
Richardson and Tyler Johnson each scored 17 points for the Heat.
Even with James' greatness, the biggest shot for the Lakers might have come from Brandon Ingram with 3 minutes, 46 seconds left. Miami had clawed within eight and the shot clock was about to expire on the Lakers, but Ingram connected on a long jumper from the left wing to make it 104-94.
From there, the only drama was whether James would get 50. He did.
"Just give him the ball and get out of the way," Lakers guard Kyle Kuzma said.0
Comments will be moderated. Keep comments relevant to the article. Remarks containing abusive and obscene language, personal attacks of any kind or promotion will be removed and the user banned. Final decision will be at the discretion of the Taipei Times.