Steelers fight back to down Jaguars
Ben Roethlisberger threw two interceptions on his first 12 passes as the Pittsburgh Steelers failed to score in the first half for the first time in more than two years, and they still trailed by 10 approaching the two-minute warning.
So when Big Ben muscled his way over the goal-line with five seconds left for a 20-16 victory over the Jacksonville Jaguars, he was not sure where to rank the comeback.
"Horrible games that you find a way to win? Pretty special," he said.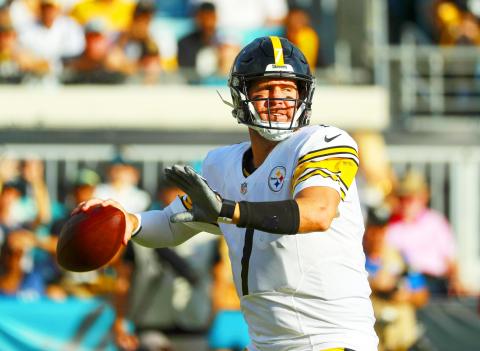 Ben Roethlisberger of the Pittsburgh Steelers drops back to pass against the Jacksonville Jaguars in their NFL game in Jacksonville, Florida, on Sunday.
Photo: AFP
One week after Roethlisberger had a perfect quarterback rating, he overcame three interceptions and a 16-0 deficit by leading touchdown drives on the Steelers' final two possessions as Pittsburgh escaped with their sixth straight victory.
"Really, really awesome fight," Steelers coach Mike Tomlin said. "The bottom line in our business is winning and we took care of business. Style points were quite ugly, or few, but we got the job done."
Roethlisberger hit Antonio Brown on a 78-yard touchdown to get on the board, found JuJu Smith-Schuster on a pair of shoulder fades down the sidelines and took care of the final score on his own.
The Steelers had one timeout from the one when Roethlisberger rolled to his right and barely got the ball across.
"I don't know what option I am, but it's way down the list," he said. "You just find a way."
The Steelers (7-2-1) likely ended any playoff hopes for Jacksonville (3-7), who beat them twice last season, including the divisional playoffs.
The Jaguars, who controlled the game until the final five minutes, now have dropped six in a row.
As much as Roethlisberger led the Steelers, the defense gave him a chance.
Jacksonville ran only 11 plays in the fourth quarter for minus-seven yards, including three of their six sacks of Blake Bortles.
"We have to be able to get first downs and close the game out," Jaguars coach Doug Marrone said. "If you just had one first down on any of those drives, you had a chance to win that football game and we weren't able to do that."
Leonard Fournette ran for 95 yards on 28 carries and he caught two passes for 46 yards that led to the Jaguars' only touchdown when he launched himself from the four and scored for a 16-0 lead with 2 minutes, 9 seconds left in the third quarter.
Roethlisberger, who now has 10 turnovers in his past three games against Jacksonville, took over from there.
After the long touchdown to Brown, Roethlisberger found tight end Vance McDonald in the back of the end zone to cut the lead to 16-13 with 2:28 remaining. Then he delivered the winner.
Roethlisberger was 27 of 47 for 314 yards, 170 of them in the fourth quarter.
Comments will be moderated. Keep comments relevant to the article. Remarks containing abusive and obscene language, personal attacks of any kind or promotion will be removed and the user banned. Final decision will be at the discretion of the Taipei Times.