Superstar chess duel kicks off
'THOR OF CHESS': Magnus Carlsen, reigning champion and part-time model, and Fabiano Caruana, the first American since 1972, tied their first game in seven hours
The World Chess Championship began in London on Friday between three-time defending champion Magnus Carlsen and Fabiano Caruana, the first American to compete since the legendary Bobby Fischer in 1972.
Hollywood actor Woody Harrelson — star of Cheers and The Hunger Games — was given the ceremonial role of moving the first piece, but made an unintentionally comical start, knocking over a king and pushing forward the wrong pawn.
Once under way, 26-year-old Caruana, playing white, produced some bold early moves and seized a knight, while Norwegian master Carlsen, 27, was more cautious in the opening exchanges.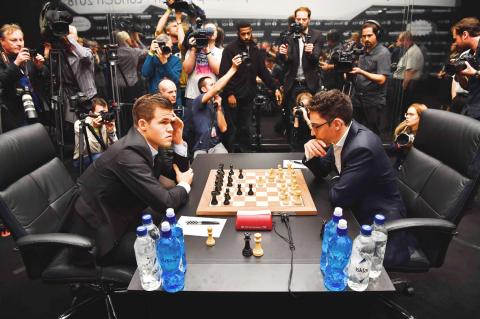 Reigning world chess champion Magnus Carlsen, left, and challenger Fabiano Caruana play the first game of the World Chess Championship in London on Friday.
Photo: AFP
However, by later in the games, Carlsen was in a more dominating position.
He is seeking to cement his reputation as history's greatest chess player, while Caruana is another young prodigy helping to return mass appeal to the highbrow game.
The two are to face off 12 times until Nov. 26 in the biannual contest held in a former London art and design school building.
Chess has its own unique scoring system that awards the winner of each game one point, while a draw sees the contenders each get a half point.
The title goes to the first person to reach 6.5 points, with a rapid series of tiebreakers played in case the two are level after the first 12 games.
Carlsen — a superstar in Norway who is also a part-time model — excels in such playoffs, as he demonstrated in 2016 in New York against Russia's Sergey Karjakin.
Introduced to the game at a young age by his father, he was a "great international master" by 13 — holding Garry Kasparov, the Soviet and Russian legend whose record ranking Carlsen eventually broke, to a draw.
"There is no doubt that Carlsen is one of the best chess players ever," British Chess Magazine editor Milan Dinic said.
Carlsen, the reigning champion since 2013, is seen as a nearly flawless chess player who has helped make the game's image more fun.
Dubbed "the Thor of chess," he is credited with having a formidable intuition and a prodigious memory that allow him to have a vast repertoire of moves.
Carlsen on Thursday said that he has not been playing at his highest level lately, but was "confident" he could turn his form around.
Caruana earned his shot against Carlsen by winning the Candidates Tournament earlier this year in Berlin, and the Italian-American from Miami is to take heart from having held his opponent to a draw in August.
He has climbed up the World Chess Federation rankings to occupy the No. 2 spot — just three points off Carlsen's total of 2,835.
Americans have not had a chess hero since Fischer stunned Soviet champion Boris Spassky in an epic series in 1972 that epitomized the Cold War rivalry between the two superpowers, but any comparison with the US legend would be premature at this stage, Caruana said.
"If I become world champion the comparison will be more apt," he said.
With Carlsen's modeling profile and Caruana's appeal in the US, tournament organizers World Chess are hoping to conquer new audiences.
Many believe the 1,500-year-old game can adapt well to the digital age, with a plethora of dedicated Web sites and apps awaiting a bigger audience.
"There's a lot of people in the celebrity world, movies and music, who have an interest in chess," Caruana said. "I think chess is definitely becoming cooler."
Friday's opener ended in a draw after a grueling seven hours.
"It could have been better," Carlsen said. "At a certain point it was very promising... My head was working well, but obviously the conclusion of the game shows that I still have things to work on."
Caruana suggested that he was pleased with the outcome after 115 moves.
"I had a very strong feeling that I was losing for a number of moves," he told reporters.
Comments will be moderated. Keep comments relevant to the article. Remarks containing abusive and obscene language, personal attacks of any kind or promotion will be removed and the user banned. Final decision will be at the discretion of the Taipei Times.