Byard interception inspires Titans victory
Kevin Byard secured the interception that sparked the sluggish Tennessee Titans and turned toward midfield. The flashback for the Dallas Cowboys was just as disheartening as the original.
Byard on Monday mimicked Terrell Owens' mocking celebration on the star logo at the 50-yard line from 18 years ago and Marcus Mariota accounted for three touchdowns as the Titans spoiled Amari Cooper's Dallas debut with a 28-14 victory.
The end-zone pick of Dak Prescott came after Mariota fumbled on the first two Titans possessions. Just as Owens did at old Texas Stadium 18 years ago, Byard ran to midfield and spread his arms.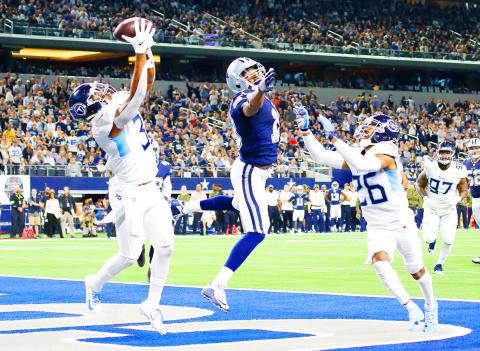 Kevin Byard of the Tennessee Titans, left, intercepts the ball in the end zone against the Dallas Cowboys in their NFL game in Arlington, Texas, on Monday.
Photo: Matthew Emmons-USA Today
Owens did it twice in a blowout San Francisco win over a bad Dallas team that time. This win by the Titans (4-4) ended their three-game losing streak, while handing the Cowboys (3-5) their first loss in four home games and making their road to the playoffs a difficult one.
"It was huge," Mariota said of Byard, while adding that he did not see the celebration. "The defense has done an unbelievable job throughout the year in building us up. They found ways to give us plays, to get turnovers."
The Cowboys looked like the team headed for a blowout win, but led just 7-0 after Mariota's early miscues because of Brett Maher's missed 38-yard field goal on the opening possession and Prescott's ill-advised throw into double coverage.
"That was the difference. Simple as that," said Prescott, who lost a fumble at his 40-yard line to set up Tennessee's tiebreaking score in the third quarter. "Defense gives a turnover there. We're up seven points and I go down there and try to force the ball, and give it right back to them."
Comments will be moderated. Keep comments relevant to the article. Remarks containing abusive and obscene language, personal attacks of any kind or promotion will be removed and the user banned. Final decision will be at the discretion of the Taipei Times.