Derrick Rose scores 50 in win over Jazz
STORY NOT OVER? Timberwolves coach Tom Thibodeau said that after Rose's battle with injury and time out of the game, he thinks 'the end is going to be great for him'
Derrick Rose did not score 50 points in all of January, February, March or April, but on Wednesday night he finished with a career-high 50 points to lift the Minnesota Timberwolves over the Utah Jazz 125-122.
"I played my heart out," Rose said. "My teammates told me before the game: 'Just play my game.' And tonight was a hell of a night."
Rose became the fourth player this season to score at least 50 in a game, joining Blake Griffin, Stephen Curry and Klay Thompson, and if the 50 was not enough, Rose sealed the win by blocking a Dante Exum three-point attempt with about two seconds remaining.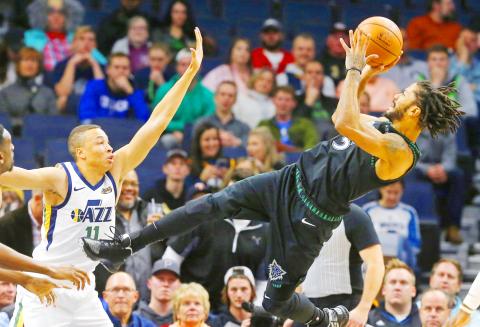 The Minnesota Timberwolves' Derrick Rose, right, takes a fall-back shot against the Utah Jazz during their NBA game in Minneapolis, Minnesota, on Wednesday.
Photo: AP
Moments later, Rose walked off the floor in tears. The game had made the 2011 NBA MVP cry before. Only this time, the emotion was all joy.
"I know the person that he is, the character that he has and it shines through," Wolves coach Tom Thibodeau said.
Rose has dealt with four knee surgeries, needed to take time away last season to figure things out while dealing with ankle issues and was forced to sit out nearly two full seasons when he should have been in his prime.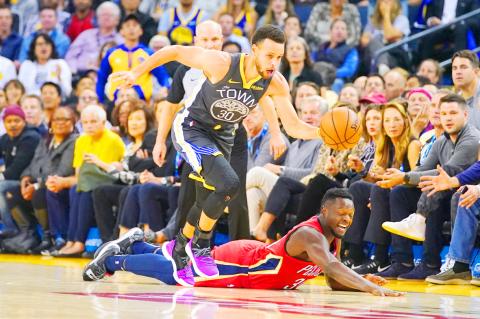 Golden State Warriors guard Stephen Curry, front, goes past New Orleans Pelicans forward Julius Randle during their NBA game at the Oracle Arena in Oakland, California, on Wednesday.
Photo: Kyle Terada-USA TODAY
A night like Wednesday showed what is still possible.
"In every story, there's a beginning, a middle and an end, and I think the end is going to be great for him," Thibodeau said.
Rose tried to play it cool afterward, then acknowledged that he was still "jittery as hell" and that was about an hour after the game.
"It means everything," Rose said.
The Wolves mobbed Rose on the floor when it was over. They doused him with water in the locker room and around the league, players could not wait to show him love.
"What he gives to his mind and body just to play one game is something I watched being his teammate," said LeBron James, who played with Rose in Cleveland last season. "When you talk about perseverance, that is the true definition of it... Even when a superhero is knocked down, he is still a superhero at the end of the day and Derrick showed why he is a superhero."
"Every basketball fan in the world should feel good for DRose," wrote Miami guard Dwyane Wade, also Rose's teammate in Cleveland.
"Hard work is undefeated," Portland's C.J. McCollum wrote.
In other games, it was:
‧ Knicks 101, Pacers 107
‧ Warriors 131, Pelicans 121
‧ Lakers 114, Mavericks 113
‧ Suns 90, Spurs 120
‧ Nets 120, Pistons 119 (OT)
‧ Bulls 107, Nuggets 108 (OT)
Comments will be moderated. Keep comments relevant to the article. Remarks containing abusive and obscene language, personal attacks of any kind or promotion will be removed and the user banned. Final decision will be at the discretion of the Taipei Times.