Juve shares drop, Nike 'concerned' over Ronaldo
Nike on Friday said it is "deeply concerned" by rape allegations against star client Cristiano Ronaldo, while shares in Juventus fell almost 10 percent on the Italian stock exchange.
Juventus coach Massimiliano Allegri said the striker is "doing well" and was "ready to play" in yesterday's game at Udinese.
However, the player's relationship with Nike, which is rumored to be worth US$1 billion, is under scrutiny after police in Las Vegas last week announced that they were reopening an investigation into allegations made by a former model Kathryn Mayorga.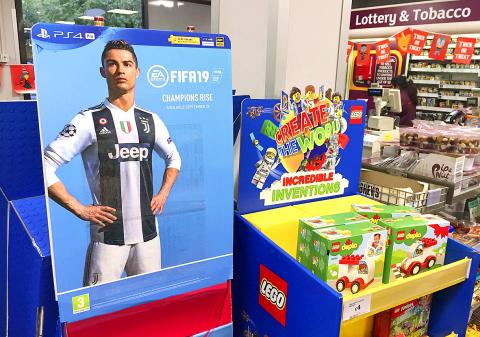 Soccer star Cristiano Ronaldo is featured on a display for the FIFA19 video game in London yesterday.
Photo: AP
"We are deeply concerned by the disturbing allegations and will continue to closely monitor the situation," a Nike spokesman said.
According to Forbes, Ronaldo is one of only three athletes to have been given a lifetime deal with Nike.
Electronic Arts (EA) Sports, for whom Ronaldo is a leading figure in their FIFA video game, also called the allegations "concerning."
Shares of Juventus on Friday closed down 9.92 percent at 1.19 euros on the Milan stock exchange.
Juventus have so far stood behind Ronaldo, but the club's reaction to the issue has angered some fans.
The Portuguese striker "has shown in recent months his great professionalism and dedication, which is appreciated by everyone at Juventus," the club wrote on Twitter on Thursday, breaking their silence over the allegations.
"The events allegedly dating back to almost 10 years ago do not change this opinion, which is shared by anyone who has come into contact with this great champion," it added.
The defending Serie A champions' tweets were widely panned on social media as "shockingly dismissive and insensitive."
"You'd expect a more nuanced and sensitive approach from such a mega organisation," one tweet said.
Ronaldo has vehemently denied the accusations.
"I firmly deny the accusations being issued against me," he tweeted in English on Wednesday. "Rape is an abominable crime that goes against everything that I am and believe in."
"My clear conscious ... will thereby allow me to await with tranquility the results of any and all investigations," he added.
Portugal on Thursday said that Ronaldo would play no part in the nation's next four internationals, but national coach Fernando Santos gave him his backing.
"I know Cristiano Ronaldo very well and I fully believe his word when he says he would never commit a crime like this," Santos said.
Comments will be moderated. Keep comments relevant to the article. Remarks containing abusive and obscene language, personal attacks of any kind or promotion will be removed and the user banned. Final decision will be at the discretion of the Taipei Times.