CTFA chairman candidate shares vision for soccer
The anticipated winner of this weekend's election for chairman of the Chinese Taipei Football Association (CTFA) presented his vision for advancing and reforming soccer in Taiwan at a news conference in Taipei on Tuesday.
Chiou I-jen, director of the Taiwan-Japan Relations Association, said he had wanted to share his vision with the public much earlier, but "there were questions regarding my eligibility as a candidate for association chairman and the association's election disputes were only settled recently."
Chiou, 68, said he has had a passion for soccer since he was a child and still plays weekly in a Taipei amateur league.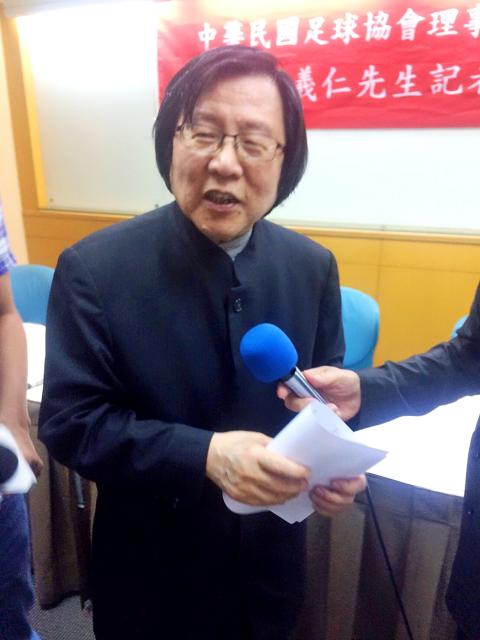 Candidate for CTFA chairman Chiou I-jen outlines his plan for soccer in Taiwan at a news conference in Taipei on Tuesday.
Photo: Jason Pan, Taipei Times
Many of his friends have wanted Taiwan to be more competitive internationally, Chiou said, adding that they persuaded him to return as CTFA chairman, a post that he held from 2005 to 2010.
"It will be a big responsibility to lead the association as chairman again, but I have confidence that we can push Taiwanese soccer up to a high level of competitiveness," he said as he outlined what his plan would be for the new four-year term.
"These plans will not be easy to achieve and might not even be accomplished during the next term, but to improve soccer in Taiwan, I am willing to lead the way and push for their implementation," Chiou said, as he outlined amending certain articles in the CTFA charter, having only professional teams compete in Taiwan's top league, increasing salaries for players and coaches, establishing professional licensing for coaches and referees, and setting up a database of Taiwanese soccer players of all levels.
The Legislative Yuan responded to calls to reform the nation's sports governing bodies by amending the National Sports Act (國民體育法) late last year, Chiou said.
"Some articles in the National Sports Act differ from FIFA soccer regulations, especially those governing requirements for association members," Chiou said, adding that FIFA's regulations cover mostly European countries, where they tend to have group members, such as soccer clubs, whereas Taiwan also wants to include individual members.
"I would have to work with the Sports Administration on this, convey our situation to FIFA and arrive at an agreement," he added.
Having the nation's top league composed of all professional teams is crucial for raising player standards to an international level, Chiou said.
"One way to accomplish this goal would be to have Taiwan's leading business conglomerates and big state-run enterprises put up the funding to underwrite professional teams," he said, citing how Taiwan Power Co funds the Taipower team in the Taiwan Football Premier League.
"We could also have local governments persuade 20 to 30 companies in their region to put up NT$600,000 to NT$900,000, or NT$30,000 each, which together could fund a few professional teams and cultivate local support over the long term," he said, adding that this kind of development has produced healthy growth in Japan's soccer league.
Chiou also presented ideas to increase the number of professional Taiwanese soccer players, improve refereeing standards and develop a nationwide database to track players' progress and support needs.
The CTFA would lead the charge to obtain more funding and corporate sponsorship for soccer initiatives in Taiwan, Chiou said.
Comments will be moderated. Keep comments relevant to the article. Remarks containing abusive and obscene language, personal attacks of any kind or promotion will be removed and the user banned. Final decision will be at the discretion of the Taipei Times.