Red Sox down Orioles to rack up record 106th win
The Red Sox were still shaking hands on the field when the "106" went up in the win column of the American League East standings that are posted on the Green Monster.
Scoreboards flashed "106 Wins."
Fans waved signs to celebrate breaking a record that has stood as long as Fenway Park itself.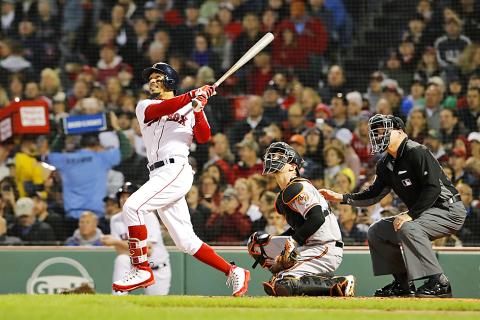 Mookie Betts of the Boston Red Sox, left, hits a two-run homer against the Baltimore Orioles in their American League game in Boston, Massachusetts, on Monday.
Photo: David Butler II-USA Today
"You think about all the history of the game and the history of this franchise," Boston manager Alex Cora said on Monday after the Red Sox beat the Baltimore Orioles 6-2 to earn their record 106th victory and clinch home-field advantage through the post-season.
"To be part of this, I can't even explain it. We should call timeout and enjoy this one," said Cora, who is in his first year as manager. "We know what we want to do in October, but this one ... for us to do it is amazing."
Mookie Betts had a pair of hits to leave his major league-best batting average at .343, while Nathan Eovaldi struck out 10 hapless batters to assure the Red Sox of the best record in the major leagues this season and home-field advantage through to the World Series, if they make it that far.
For now, they know they will open the Division Series at Fenway Park on Oct. 5 against the winner of the American League wild-card game between the New York Yankees and the Oakland Athletics.
"I know how it gets here in the playoffs," said Cora, who played on the team from 2006 to 2008 and was a bench coach with the Astros when they beat Boston in the divisional round last year. "It's a special place and it's a tough place for the visitors in the post-season."
The 1912 Red Sox won 105 games in their first season at Fenway Park.
Cora said he spoke to the team after the game and so did injured second baseman Dustin Pedroia, the longest-tenured member of the Red Sox squad.
"Enjoy it,"' Betts recalled Cora saying. "We've got a great group of guys, a special group of guys. Finish out strong before the playoffs start."
Comments will be moderated. Keep comments relevant to the article. Remarks containing abusive and obscene language, personal attacks of any kind or promotion will be removed and the user banned. Final decision will be at the discretion of the Taipei Times.