A's celebrate making playoffs
OUTSIDERS: A young team with few proven stars who had a 75-87 record last year, few people predicted that Oakland could make the playoffs this season
The Oakland Athletics on Monday clinched their first playoff berth since 2014, then beat the Seattle Mariners 7-3 behind Khris Davis' major league-leading 46th home run.
Jonathan Lucroy, Jed Lowrie and Matt Chapman also homered for the A's, who are assured no worse than a wild-card berth.
Oakland were one out into the game when Tampa Bay were eliminated with a 4-1 loss to the New York Yankees.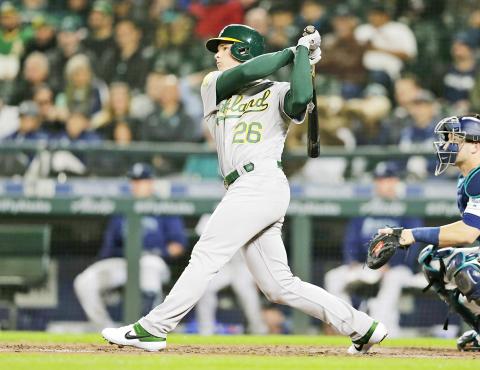 Matt Chapman of the Oakland Athletics, left, hits a two-run homer against the Seattle Mariners in their American League game in Seattle, Washington, on Monday.
Photo: AP
The A's went on to win after Chapman broke a 3-3 tie with a two-run drive in the seventh off Shawn Armstrong (0-1).
Coming off three straight last-placed finishes in the American League West, the A's (95-62) are 4.5 games behind league-leading Houston.
They trail the Yankees by 1.5 games for home-field advantage should they meet in a wild-card matchup.
Robinson Cano and Dee Gordon homered for the Mariners.
Few predicted the A's could make the playoffs this season, a young team with few proven stars and a team that was 75-87 a year ago.
Oakland won only 68 games in 2015 and 69 in 2016.
The A's have the third-lowest payroll among the 30 major league clubs at US$78 million for their 40-man roster, ahead of only the White Sox and the Rays.
Oakland were 34-36 and 11 games behind Seattle in the wild-card race on June 15. The A's have gone 61-26 since.
"We've had some younger players mature and become, for me, stars," Oakland manager Bob Melvin said before the game. "I think the two guys on the corners [third baseman Chapman and first baseman Matt Olson] should win Gold Gloves. Our defense is night-and-day to what it was and it's gotten better as the year's gone along. We've gone from last year being one of the worst defenses in the league to now one of the best. Our bullpen has been a strength for us all year. We don't just rely on one facet. We seem to be able to win in different ways."
One big contributor is Davis, the team's designated hitter, with 120 RBIs.
Davis has hit at least 40 homers and driven in more than 100 runs in each of this three seasons with the Athletics.
Blake Treinen, who pitched a perfect ninth inning, is 9-2 and one of the top closers this season with 37 saves and a 0.81 ERA, the lowest of all major-league relievers with at least 75 innings pitched.
Opponents have a .091 batting average against Treinen this season with runners in scoring position.
"It's amazing," Melvin said. "Not only is he doing it closing games, he's doing in game when we're tied and he's pitching two innings at times. The numbers are absolutely fantastic. I don't know that I've seen numbers like that from any closer in quite some time. He's meant a lot to this team."
The A's are the only team in the majors with an undefeated record this season when leading after seven innings (68-0) and have the best record in one-run games at 31-13.
The Athletics will be making their fourth playoff appearance in the past seven seasons, all under Melvin, and their 27th overall.
The last time the A's reached the World Series was 1990, losing in four games to Cincinnati.
Oakland won the 1989 World Series after the Bay Area earthquake, sweeping San Francisco.
Comments will be moderated. Keep comments relevant to the article. Remarks containing abusive and obscene language, personal attacks of any kind or promotion will be removed and the user banned. Final decision will be at the discretion of the Taipei Times.