Asian Games: Legend Tony Hawk slams Malaysian skater haters
Skateboarding legend Tony Hawk and Malaysian Minister of Youth and Sports Syed Saddiq defended a teenage skateboarder who was targeted online over her poor performance at the Asian Games.
Fatin Syahirah Roszizi, 16, finished in eighth and last place in the women's street final on Wednesday, falling off within seconds of the start in two of her runs.
The Philippines' Margielyn Didal bagged gold with a score of 30.4 — compared with Fatin's 5.4.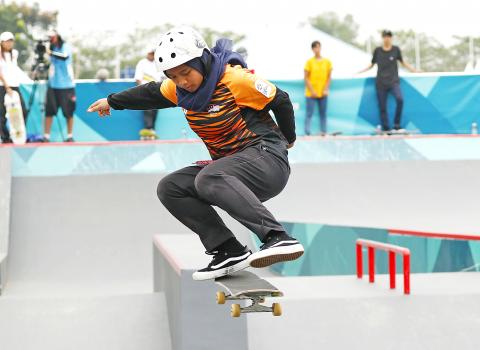 Fatin Syahirah Roszizi of Malaysia competes in the Asian Games women's street skateboarding final on Wednesday in Palembang, Indonesia.
Photo: Reuters
However, Fatin's Games experience sunk to a new low after the final, when she found herself subject to a tide of vitriolic comments on Facebook.
Choudhry Sundaram Padiachee said the final was a "disgrace toward the nation," while Wan Noraziah Aziz asked: "Did she go there [to the Asian Games] using her own money?"
Others said there were better Malaysian skaters, but they had not been given a chance to go.
The abuse prompted Fatin to delete all her posts on Instagram, before posting a message apologizing for her performance.
However, Hawk was one of thousands who rushed to the teenager's defense.
"Don't give up! If I had listened to the haters throughout my life, I would have stopped skating way too soon," Hawk wrote on Instagram. "They are simply projecting their insecurities on you because they wish they had the courage to follow their dreams. You can be an inspiration to a new generation of Malaysian skaters."
Saddiq said on Twitter that "this [abuse] should never happen."
"It's easy for people to criticize, but we are not in her place. To be 16 and representing your country, the pressure must be unimaginable," he said.
Comments will be moderated. Keep comments relevant to the article. Remarks containing abusive and obscene language, personal attacks of any kind or promotion will be removed and the user banned. Final decision will be at the discretion of the Taipei Times.