Asian Games: Dirty seawater sickens Asian Games sailors
Japan's Akira Takayanagi said he battled dire stomach pains after swallowing dirty sea water to win a gold medal on Friday at the Asian Games sailing.
Takayanagi, 22, competing in the men's 470 event with teammate Tetsuya Isozaki, was one of several athletes struck by stomach cramps and diarrhea in Jakarta, where the surrounding bay is heavily contaminated by sewage.
"I had a really bad stomach earlier in the week, probably from getting the water in my mouth," said Takayanagi, who also developed a fever and stomach pains at the Asian Sailing Championships in Jakarta in June.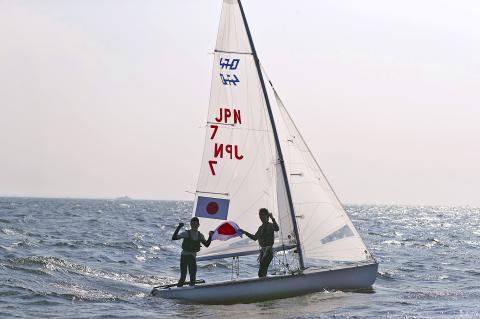 Tetsuya Isozaki and Akira Takayanagi of Japan compete in the Asian Games sailing men's 470 on Friday in Jakarta.
Photo: Reuters
His compatriot, Shingen Furuya, gold medalist in the men's 49er with Shinji Hachiyama, was running a temperature of close to 40°C in his qualifying races, while Manami Doi was feeling unwell during the final of the laser radial, where she secured the top spot.
Hong Kong's Michael Cheng, who bagged a silver in the RS:X, also blamed the sea for his tummy troubles.
"I guess it's the seawater here, because we eat together every night," but they are not ill, he said, pointing to his support staff. "The water looks okay, but I just try to remind myself not to open my mouth."
A 2012 UNESCO report found that all 13 rivers running into Jakarta Bay were contaminated with human waste, largely due to the capital's inadequate sewage treatment facilities.
There was also drama in the Indonesian camp, as Noviana Puspita Sari was hit in the ribs by part of her sail and her boat capsized, her team said.
She was rescued by one of the Singaporean boats, before being stretchered off the jetty into a waiting ambulance.
Although the water was choppy, the conditions would have posed no problems for most world-class athletes.
However, many of the athletes at the Games are relatively inexperienced.
In the women's 49er FX, Varsha Gautham secured silver alongside Sweta Shervegar, after becoming embroiled in a court case over their selection for the Games.
Gautham said she and Shervegar had performed better in qualification, but two other athletes were selected instead.
Gautham and Shervegar were eventually picked for Jakarta after the Indian High Court directed the Indian Olympic Association to decide on the case, but Gautham, 20, said it had been a difficult time.
"It wasn't fair and we fought for what was fair. I'm sure there was politics involved," she said, adding that the court battle ended just a week before they arrived in Jakarta. "I am so relieved, I'm so happy, I'm so happy I can't tell you."
Comments will be moderated. Keep comments relevant to the article. Remarks containing abusive and obscene language, personal attacks of any kind or promotion will be removed and the user banned. Final decision will be at the discretion of the Taipei Times.