Asian Games: Rivals nations spar over pencak silat
A fist-sized hole in the wall, an illegal kick in the back, a cry of biased judging — as debuts go, martial art pencak silat's first Asian Games appearance was a little rocky.
The ancient Indonesian sport — which allegedly originates from when a woman copied the techniques of a tiger to fight off a group of pestering men — has ended up riling athletes and fans, and stirred old tensions among Southeast Asian nations.
Controversy began when Malaysia's Muhammad Robial Sobri took aim at Singapore's Sheik Ferdous Sheik Alauddin, powering a hard kick into his back as he lay on the ground.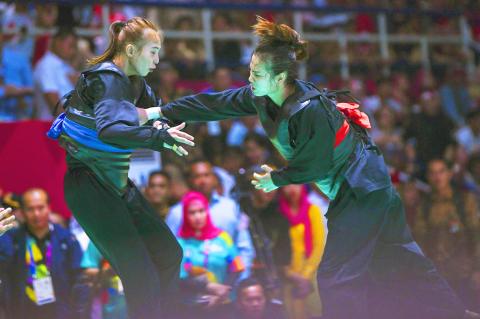 Vietnam's Tran Thi Them, right, competes against Indonesia's Wewey Wita during the Asian Games pencak silat 50-55kg final in Jakarta on Wednesday.
Photo: AFP
That was followed by a protest from Mohd al-Jufferi Jamari — also a Malaysian, as well as the 2016 world champion — when he withdrew seconds before the end of his final against Indonesia's Komang Harik Adi Putra, accusing judges of bias.
"I'm mad because the jury didn't give the point fairly," al-Jufferi said shortly after punching a hole in a nearby wall.
Although its debut was an undeniable success for Indonesia's medal tally — they bagged 14 of the 16 golds — it is less clear whether the martial art was a force for good at the Games.
Videos of the incidents were shared widely on social media, and Indonesian spectators watching a clash between Malaysia and Vietnam in the 90-95kg final cheered loudly for the Vietnamese.
Erick Thohir, head of Games' organizing committee, INASGOC, said the sport had stirred tensions among neighbors.
"Especially regarding pencak silat, there are complaints from the countries which lost," he said. "Funny, when Indonesia achieved so well, we get complaints."
"It's very unfortunate if other countries complain, especially, pardon me, Islamic countries, which we or neighboring Southeast Asia countries have good relationships with or often meet," he added.
Indonesia and Malaysia have long seen tensions. Disputes have erupted over everything from the ownership of islands and the alleged poor treatment of Indonesian migrant workers in Malaysia, to the origins of traditional dances and songs.
At the opening ceremony, Malaysian athletes were booed as they paraded through the stadium.
At last year's Southeast Asian Games in Kuala Lumpur, Indonesia accused Malaysia of cheating in the men's pencak silat doubles by inflating the score of the home athletes.
That accusation came after Malaysian Games organizers mistakenly printed Indonesia's flag upside-down in a commemorative magazine, prompting protests in Indonesia and revenge hacking attacks.
Comments will be moderated. Keep comments relevant to the article. Remarks containing abusive and obscene language, personal attacks of any kind or promotion will be removed and the user banned. Final decision will be at the discretion of the Taipei Times.