Paraplegic driver scores first professional win
Michael Johnson's big grin never seems to disappear, because he is doing what he loves.
The smile sticks out as he drives the No. 54 Audi for JDC-Miller Motorsports in the Continental Tire SportsCar Challenge, and when he drives his other set of wheels: the wheelchair he uses when he is not behind the wheel.
"I do it [racing] to get myself out of the wheelchair. It's a big thing," said Johnson, who is paralyzed from the waist down. "I'm a totally separate person [in the car]. I don't have to deal with any of the stresses in life. I can really just focus on what I'm really good at — driving a race car and having fun doing it."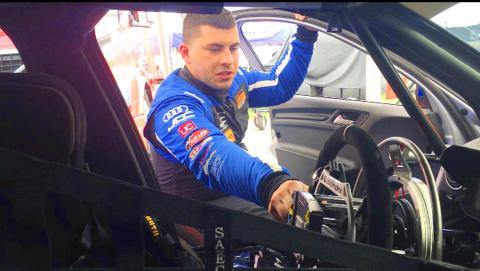 Race car driver Michael Johnson explains how he drives his No. 54 Audi in Elkhart Lake, Wisconsin, on Thursday.
Photo: AP
The native of Flint, Michigan, is one of a handful of race car drivers who are disabled and competing worldwide at the top levels.
One of his heroes, former open-wheel star Alex Zanardi, lost his lower legs in a crash in Germany nearly two decades ago. Now 51, Zanardi, a two-time CART champion who also drove in Formula One, returned to racing, won in world touring cars and is still driving.
Turns out the 25-year-old Johnson is also good enough to win.
Johnson and codriver Stephen Simpson on July 21 combined for their first win in Lime Rock, Connecticut. It was their third straight podium of the season and another positive sign for Johnson in his recovery from a devastating crash.
"It's been a fantastic evolution," said Simpson, who has helped coach Johnson for the past seven years. "We've gone on a long road together."
Johnson won 14 national motorcycle championships by age 12 and was on the cusp of landing a deal for a permanent ride with a manufacturer, when his budding career skidded to a dramatic halt on a dirt track in Canada in 2005.
He was involved in a crash in Sarnia, Ontario, breaking his collarbone, left ankle, left leg, ribs and, worst of all, two vertebrae in his back.
The first thing out of his mouth was: "Don't make me quit racing," said his father, Tim, a former motorcycle racer.
Four rods and 15 screws were inserted in Johnson's back during an 11-hour operation. He spent a couple of months in the hospital and another month at home in bed.
"It happens in racing, so I'm not going to dwell on it," Johnson said. "That was 13 years ago. I've moved on."
On Dec. 24, 2006, Johnson took a spin in a specially equipped go-kart with hand controls in the parking lot of his father's phosphate coating business, which has allowed the family to help him pursue his dreams.
"It was a good feeling," he said. "That's when everything started."
After getting clearance from his doctors, Johnson won a go-kart title and his career on four wheels began a rapid ascent.
IndyCar team owner Sam Schmidt, who also was paralyzed in a crash, advised Johnson to get involved with Skip Barber Racing.
After lawyers approved his entry into the formula car series, Johnson ran a partial schedule in 2010 with modified hand controls. He competed in the entire summer series the next year, winning at Watkins Glen and twice at Elkhart Lake among seven podium finishes.
Johnson spent two seasons in USF2000 and two more in Pro Mazda as he chased an open-wheel ride with an eye on competing some day in the Indianapolis 500, a dream he still has.
Acquisition three years ago of a hand-controlled driving system produced by Guidosimplex of Italy gave Johnson an edge he needed. His steering wheel features two rings — one for the throttle, the other to brake — and paddle shifters allow him to grip the steering wheel to navigate the serious turns on the road courses used by the series.
"What he's able to do is nothing short of amazing when you think he's only operating with a third of the sensory perception that a normal person has when they're sitting in the seat of a race car," team engineer Cole Scrogham said.
The 10-race Continental Tire Challenge series — Johnson and Simpson compete in the street tuner class, where the cars can reach speeds of about 225kph — is the foundation for grooming amateur drivers to compete and move up to the International Motor Sports Association's WeatherTech Series.
Teams are required to make a driver switch every race, and Johnson and Simpson are able to accomplish it in competitive times thanks to Johnson's trainer, Josh Gibbs, who pulls him from the car and carries him behind the wall on pit road.
There have been setbacks: Johnson has crashed twice in the past three years, most recently in practice for the association's season-opener at Daytona in January. He was second on the time sheets when his brake linkage snapped. The crash broke a leg.
Johnson, who underwent stem cell surgery in Portugal in 2009 in the hopes of improving his chances of walking again, recovered and returned to race at Mid-Ohio in May after being cleared by series officials. Johnson responded by qualifying on the front row and leading a race for the first time.
"It's amazing to see his resilience," said Mikey Taylor, who drives in the series and has coached and spotted for Johnson. "For sure, Michael still has a ways to go to be a professional like Stephen, but in the car, he's equally as good and holds his own. I definitely think he's got a very strong career in sports cars."
Johnson also has a passion for spreading his message.
"It's a good feeling to know that I'm really one of only a select few that have gone this far," he said. "I'm trying to help out as many people that are paralyzed in wheelchairs that I possibly can. Whatever challenges you're having, don't give up. There's always something that can be done."
Comments will be moderated. Keep comments relevant to the article. Remarks containing abusive and obscene language, personal attacks of any kind or promotion will be removed and the user banned. Final decision will be at the discretion of the Taipei Times.