Surprising backyard sports go pro
Dodgeball is not just a Ben Stiller movie or anxiety-inducing gym class activity. It is a professional sport.
That is no Vince Vaughn joke.
The World Dodgeball Association, founded in 2013, is holding its second World Cup this weekend in New York.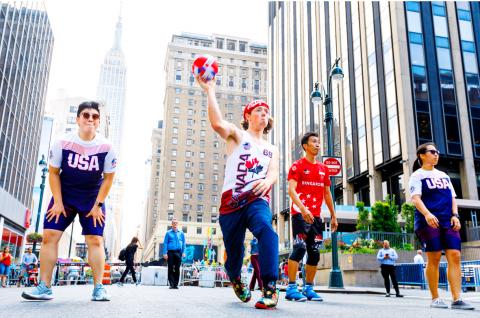 From left, dodgeball players Susan Li, Jake Low, Neoh Yi Hui and Heidi Chou on Thursday play a match on the street in New York City to promote the Dodgeball World Cup.
Photo: EPA
Thirteen countries are being represented at Madison Square Garden for the biennial tournament.
And no, it will not be on the "Ocho," the fictional ESPN channel featured in Dodgeball: A True Underdog Story. Instead, ESPN2 is to broadcast a program on the competition on Wednesday.
At the first cup in 2016, host England won the men's and mixed doubles championships, and Australia took the women's title.
Do not look for players to cower behind friends as opponents hurl red rubber balls at each other — a common occurrence in middle-school gyms for years before the sport was eliminated from many curriculums due to complaints that the game promoted bullying and violence.
Dodgeball has an official rulebook and serious athletes.
In fact, there are many games that were popularized in parks, schoolyards and even novels that have evolved into professional sports leagues with tournaments for the devoted.
QUIDDITCH
Dementors, sorting hats and floo powder might forever be part of the Harry Potter fictional universe, but a version of the flying broomstick game Quidditch has found its way off the page and screen.
The International Quidditch Association World Cup is a biannual tournament in which 29 teams compete to become the world champion. The US National Team won this year's title in Florence, Italy, on July 1.
Just as in the books, Quidditch requires each member of a seven-person team — three chasers, two beaters, a keeper and a seeker — to keep a broom between his or her legs at all times.
The chasers try to score 10-point goals by getting the quaffle (a volleyball) through a hoop. The beaters use the three bludgers (dodgeballs) to sabotage other players — if they hit an opponent, the opponent has to drop what they are doing and immediately retreat to a goalpost.
The keeper guards the hoops, and the seeker chases and pulls off the velcro tail of the snitch — someone who runs around dressed in yellow — for 30 points.
KICKBALL
The World Adult Kickball Association Kickball is making the playground adult-friendly.
The field is set up just like one in elementary school: four bases and a pitcher's mound, usually those floppy rubber ones. A rubber ball is pitched underhand across home plate and toward an opposing player, who tries to kick it then take off toward first.
Defense can get a force-out at the base, tag the runner with the ball or throw it at him or her, as long as it hits below the shoulders.
Games last five innings of three outs each per team.
There is an annual Founders Cup World Kickball Championship in Las Vegas. This year's is to be on Oct. 6.
CORNHOLE
Also known as bags, baggo or bean bag toss, the goal of this game is to toss bean bags through a 15cm-diameter hole.
The field of play is two boards, each on an angle and 8.2m apart.
A player stands next to each board and has four bags to throw. Once all eight bags are thrown, that frame of play is complete.
The American Cornhole Organization awards three points for a bag that goes through the hole and one point for a bag that lands on the board.
The organization plays with cancelation scoring, which means only one player or team can score in a frame. The first player or team to reach 21 points wins.
The World Championship of Cornhole was in Montgomery, Alabama, from July 24 to 28.
CHASE TAG
This is not the game of tag kids play at recess. Not only are there obstacles to run around, the World Chase Tag has teams, sets and matches.
A match breaks down into sets, and there are normally 10 to 16 chases per set.
In each 20-second chase, there is one chaser and one evader. Whoever wins stays on as the evader, and the losing team must send in a new player to be the chaser.
There are four people on each team and teams get points for every successful evasion.
Tags must be made by hand.
This year's World Chase Tag 3 is on Sept. 9 in London.
MINI GOLF
The US ProMiniGolf Association sticks to the basic rules.
There is a golf ball and a putter. The miniature golf course must have 18 holes and be approved by the World Minigolf Sport Federation.
The goal is to get the ball from the marked tee-off area into the hole — this area is called the lane — in as few strokes as possible. Lowest score wins in stroke-play.
The federation affiliate requires a player to tap out on a lane after six strokes. A point is just added to the player's score. Therefore, the highest possible score for a lane is a seven.
Much like the PGA, the association has a tournament schedule. This year's Master's is to be from Oct. 10 to 13 at Hawaiian Rumble in North Myrtle Beach, South Carolina.
Comments will be moderated. Keep comments relevant to the article. Remarks containing abusive and obscene language, personal attacks of any kind or promotion will be removed and the user banned. Final decision will be at the discretion of the Taipei Times.