LA-bound LeBron James leaves Akron lasting gift
LeBron James stood on a stage near one of the streets he walked as a troubled kid and looked out at thousands of faces. He felt connected to every one of them.
While his three-year-old daughter, Zhuri, played at his feet, James watched as his mother, Gloria, raised a flag in front of a school that is perhaps his greatest triumph.
His incredible life. Full circle.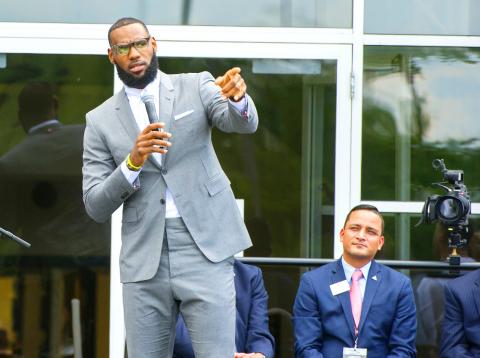 LeBron James speaks at the opening ceremony of the I Promise School in Akron, Ohio, on Monday.
Photo: AP
Before leaving for Los Angeles, James gave his hometown quite a gift.
James, who ended his second stint with Cleveland earlier this month by signing with the Los Angeles Lakers, on Monday opened his I Promise School, a year-around learning center devoted to some of the city's most challenged youngsters — ones just like him.
For James, who recalled missing 82 days of school as a fourth-grader while he and his mom "looked for stability," the opening culminated years of planning by his family foundation.
"This means everything," James said in an interview before the opening. "I think this is the greatest accomplishment for me because it's not just me. A championship is for a team, that's for an organization and a city, but these kids, this is for generation after generation after generation, and it's for these kids, so it means everything."
It was an emotional day for James, who also made his first comments since signing the US$154 million deal with the Lakers — a move still causing tremors across the NBA.
James recalled beating the odds of his youth when life was a daily struggle for him and his mom.
Nothing was easy as the pair constantly moved and it was only with the help of others that James found structure.
Now, he is giving kids with the same problems a path.
"There is no way I could have imagined this," he said. "I remember our foundation having a bike-a-thon and I never thought a five-mile bike ride would turn into a school. This is something I'm at a loss of words for."
The move to Los Angeles takes him thousands of kilometers from home, but as James reminded students, family and friends in the closing moments of his remarks, he will never be far away.
"No matter if I'm playing in Los Angles or not, Akron, Ohio, is always home for me," he said.
Comments will be moderated. Keep comments relevant to the article. Remarks containing abusive and obscene language, personal attacks of any kind or promotion will be removed and the user banned. Final decision will be at the discretion of the Taipei Times.