Porcello leads Red Sox over Orioles 5-3
START AND STOP: Baltimore manager Buck Showalter said starter Kevin Gausman's meltdown in the fifth was likely due to rain delays of 43 minutes and 19 minutes
The Boston Red Sox have been dominating most major league teams this season, so it comes as no surprise that they had their way against the worst of the bunch.
Rick Porcello on Monday night allowed six scattered hits over six scoreless innings and Mitch Moreland homered as Boston breezed past the Baltimore Orioles 5-3.
Andrew Benintendi drove in two runs for the American League East leaders, who have won 15 of 17 to move 40 games over .500 (71-31) for the first time since 1949.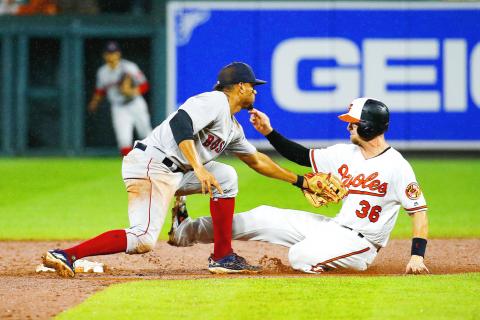 The Boston Red Sox's Xander Bogaerts, left, tags out the Baltimore Orioles' Caleb Joseph at second base to end their MLB game in Baltimore, Maryland, on Monday.
Photo: AP
"The team is playing amazing. It's pitching, hitting, running bases," said center fielder Jackie Bradley Jr, who contributed a sensational catch. "Any time you are playing the game the right way and guys are executing, it makes for some wins. That's what we've been able to do."
Working through rain delays of 43 minutes and 19 minutes, Porcello (12-4) struck out six and walked one in surpassing his win total last year.
It was a nice bounce-back performance by the 2016 AL Cy Young Award winner, who allowed eight runs in two innings against Toronto in his prior outing.
"We've built a nice foundation for ourselves so far this season," the right-hander said. "We still have a lot of baseball to play and we've got to keep going. It's not like we're winning this division by 15 games. The Yankees are right there."
The Orioles are not. With a 28-73 record, they are more than 42 games behind Boston.
The Red Sox are 10-1 against Baltimore this season and have won nine straight at Camden Yards.
Since trading shortstop Manny Machado at the All-Star break, the Orioles have lost four in a row. Machado's cubicle is now occupied by Jonathan Schoop, who homered and doubled in the loss.
"He told them to give me his locker," Schoop said. "It's different, but I'm trying to get through it. It's hard without him."
After Schoop hit a two-run homer off Brandon Workman in the eighth, Craig Kimbrel gave up an RBI single to Caleb Joseph in the ninth, but earned his 32nd save.
Kevin Gausman (4-8) gave up five runs, three hits and three walks for Baltimore. He came undone during Boston's four-run fifth, when he issued three straight walks — the last with the bases loaded — and a two-run double to Benintendi.
"I'm sure the rain delays had something to do with it," Orioles manager Buck Showalter said. "It's tough on both pitchers, starting and stopping, the time between pitching."
Moreland made it 1-0 in the second with his 12th home run.
Two rain delays later, the Orioles missed a chance to pull even in the third when Jace Peterson was easily thrown out trying to score from first on a two-out double by Schoop.
In the fourth, with a runner on third and one out, Porcello struck out Chris Davis and Trey Mancini.
Comments will be moderated. Keep comments relevant to the article. Remarks containing abusive and obscene language, personal attacks of any kind or promotion will be removed and the user banned. Final decision will be at the discretion of the Taipei Times.