Schauffele seeks to mend broken dream
Xander Schauffele's German father had his dreams of competing in the decathlon at the Olympics cruelly robbed from him, but his American son had an eye on winning The Open.
Stefan Schauffele was left blinded in his left eye in a car crash with a drunk driver when he was in his early 20s.
He went on to teach Xander his swing and caddied for him before being ditched for calling his son an idiot during a round in 2015.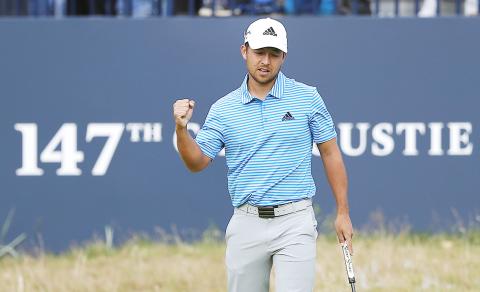 Xander Schauffele does a fist pump after sinking a birdie at The Open in Carnoustie, Scotland, on Saturday.
Photo: AP
However, now 24, Xander carded a four-under-par 67 in the third round at Carnoustie to sit alongside his compatriots, defending champion Jordan Spieth and Kevin Kisner, in the lead on nine-under.
Showing few signs of nerves, Xander, who won twice on the PGA Tour last year, outshone his playing partner, four-time major winner Rory McIlroy, who posted a 70, in front of a raucous gallery cheering on the Northern Irishman.
Xander, though, says being relatively unknown has its advantages.
"I played in front of what you call Rory's crowd, I guess, and guys were just yelling all the time, even while he's trying to putt, and he had to step off a few times," he said. "No one was yelling at me while I was putting."
Schauffele was similarly unfazed by having to play the final round with Spieth.
"He's such a nice guy. If anything, we can hopefully get something going, and we can start feeding off each other," Xander said. "Like you said, he won last year, and he's playing great golf right now. So I think he'd be a lot of fun."
In contrast to several of the other 20-something Americans who have come to the fore in recent years, Schauffele stayed on in college to complete his studies. However, Spieth was someone he kept his eyes on.
"He was out on Tour while I was still in college, I think," said Xander, whose mother is of Taiwanese origin, but like his father a naturalized American. "I watched him on TV a lot more than anyone else in my class. So it's cool to be out here."
Comments will be moderated. Keep comments relevant to the article. Remarks containing abusive and obscene language, personal attacks of any kind or promotion will be removed and the user banned. Final decision will be at the discretion of the Taipei Times.