World Cup: The English language bonds Belgium's 'boring' squad
With three national languages and a Spanish coach who speaks none of them, their World Cup camp might be a feuding Tower of Babel, but Roberto Martinez has forged a harmony he is proud to say makes Belgium "boring."
A common language of English unites a star-studded squad in which only one man still plays in the domestic Belgian league, China-based midfielder Axel Witsel told reporters on Friday ahead of yesterday's Group G match against Tunisia.
"There's no problem," Witsel said. "We are Belgium. We are all together and that's the most important thing."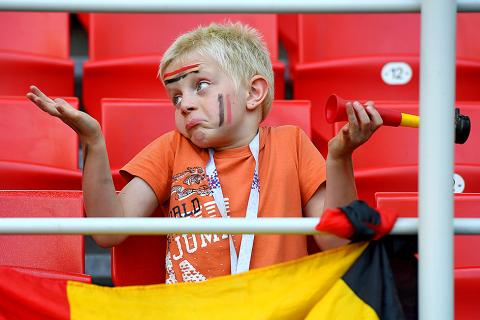 A Belgium supporter reacts during their World Cup match against Tunisia in Moscow yesterday.
Photo: AFP
Disappointments at past major tournaments have been marked by recriminations that reflect both a super-abundance of talent — with egos to match — and longstanding divisions between Belgium's French and Dutch-speaking halves.
It was Martinez's record of forging disciplined team units in the English Premier League that helped get him hired after Marc Wilmots, Belgium's top World Cup goalscorer, failed to lead them beyond the quarter-finals in Brazil and at Euro 2016.
And it was a mark of the Spaniard's determination to put internal peace above personality that he withstood a storm of abuse from Belgian fans to leave behind Radja Nainggolan, saying the vocal Roma maestro would simply not fit in to a squad where he would play second fiddle to Kevin De Bruyne and Eden Hazard.
When reporters probed for a story on the controversy, asking Witsel if Nainggolan had been in touch with the squad in Russia, Witsel refused to answer.
Prodded about the comparative lack of controversy coming out of the camp, Martinez made no excuses: "We do want to be boring. We are a football team."
"We're not here to bring stories or try to fill pages for the wrong reasons. We want to be a group that cares about each other and find a way to feed all the exceptional individual talent we have," said Martinez, who has spoken of his admiration for how Belgium's cultural and linguistic diversity also creates adaptable players.
Often described as the institution that unites Dutch-speaking Flemings, French-speaking Walloons and the small German community, a team where most of the players are multilingual is growing in confidence.
Having beaten Panama 3-0, victory over Tunisia would see Belgium qualified for the last 16 before meeting England on Thursday.
"The World Cup doesn't respect generations. The World Cup doesn't respect big individual names. The World Cup only respects winning teams," he said. "The only thing that matters is how we can become a team and work extremely hard for each other, and then the individual talent could show."
Comments will be moderated. Keep comments relevant to the article. Remarks containing abusive and obscene language, personal attacks of any kind or promotion will be removed and the user banned. Final decision will be at the discretion of the Taipei Times.