ELTA TV offers free Cup viewing
As soccer fans in Taiwan are catching World Cup fever, packing into pubs and restaurants for the big matches, broadcaster ELTA TV announced in a surprise move that it is offering free viewing of the games through to the finale next month.
The network's mission is to provide better service for its audience, ELTA TV executives said in a statement on Saturday, adding that all World Cup matches are to be available for free — no paid subscription needed — by accessing matches on its Elta OTT channel online (eltaott.tv).
The statement said that people connecting through a mobile phone or computer can watch the games on https://eltaott.tv/channel/play/110/6.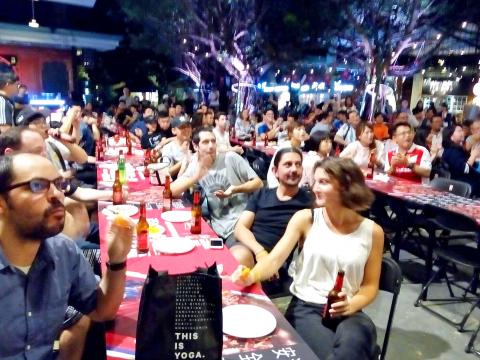 World Cup fans catch the matches at Maji Square in the Taipei Expo Park on Saturday.
Photo: Jason Pan, Taipei Times
Selecting the "Watch World Cup for Free" (免費看世足) item from the menu bar gives live access to the matches, it said.
The network's change of heart was due to slow transmission speeds and lagging signals on the first and second day of the World Cup, with ELTA TV executives saying: "It was due to the sudden surge of customer online access, which exceeded the available signal bandwidth, and we would like to apologize for what happened."
To compensate subscribers — who pay NT$129 for a one-month basic package or NT$188 for added programs — ELTA TV executives said paid subscriptions would be extended by one month.
The bandwidth problem would be addressed, the executives said, adding that they would act professionally by providing the best service to all viewers for the rest of the tournament.
The World Cup is also a time for sports fans and friends to get together and party, and many pubs and restaurants in big cities are offering viewings of select matches.
One of Taipei's biggest venues is at Maji Square in the Taipei Expo Park, which is next to the MRT Yuanshan Station.
At Maji Square's indoor plaza on Saturday night, the gourmet restaurant section was fully packed with several hundred diners and spectators watching the France vs Australia and Argentina vs Iceland matches on four large-screen TVs.
Taipei City Councilor Hsu Shu-hua (許淑華) stopped by with some other city officials.
Hsu told sports fans that she hoped to see more support for soccer programs and more funding to construct small soccer fields at schools and public parks.
"It is great to see such passion for the World Cup here, but we should help to improve Taiwanese players and our Team Taiwan so that they can compete internationally," Hsu said. "We need more government subsidies for grassroots soccer, but we also need more corporate sponsorship and support from the private sector."
Comments will be moderated. Keep comments relevant to the article. Remarks containing abusive and obscene language, personal attacks of any kind or promotion will be removed and the user banned. Final decision will be at the discretion of the Taipei Times.