Two Koreas unite for judo tournament
As the world looks to this week's summit in Singapore, the North and South Korean judo teams are uniting as a single side this weekend at the East Asian Judo Championships in Mongolia.
The decision was struck between North and South Korean sporting officials on Wednesday, while the athletes were on their way to the Mongolian capital.
"We heard we will be a united team after we arrived in Ulaanbaatar," South Korea's team coach, former world champion Jeon Ki-young, said on Friday.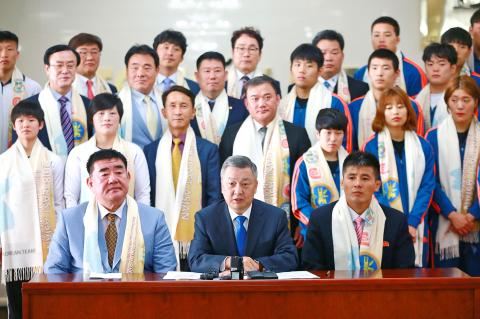 Mongolian Presidential Chief of Staff Zandaakhuugiin Enkhbold, front center, sits next to South Korean Judo Association vice president Cho Yong-chul, left, and North Korean coach Wong Kyong-il, right, during a news conference in Ulan Bator on Friday.
Photo: AFP
"We are excited that the North Korean team is collaborating with South Korea. We want to get the gold medal, then we can [solve] big issues in the world," he said.
They are to compete in their first team event together tomorrow, with the Unified Korean Flag adorning their judogis, or uniforms.
The team is to use the traditional Korean folk song Arirang as their anthem.
North Korea head coach Won Kyong-il declined to comment, saying that the side has "a tradition not to speak to the media, especially before the match."
There are a total of 21 athletes on the teams — seven men and seven women from South Korea, and two men and five women from the North.
Therefore, according to championship rules, the two Koreas were to choose five male and five female judoka to play for the United Korea team yesterday.
Teams from Taiwan, Mongolia, Japan, China, Macau and Hong Kong are also to participate in the 11th annual tournament.
Comments will be moderated. Keep comments relevant to the article. Remarks containing abusive and obscene language, personal attacks of any kind or promotion will be removed and the user banned. Final decision will be at the discretion of the Taipei Times.