Chan advances; Kasatkina briefly homeless
Taiwan's Latisha Chan on Monday advanced to the semi-finals of the mixed doubles at the French Open, while Russian youngster Daria Kasatkina's stirring run to the women's singles quarter-finals left her temporarily homeless in Paris.
Second seeds Chan and Ivan Dodig rallied from a set down against Nicole Melichar of the US and Alexander Peya of Austria to complete a 2-6, 6-4, 10-7 victory in 1 hour, 16 minutes at Roland Garros.
The Taiwanese-Croatian duo found themselves in trouble after surrendering five straight games in the first set, but converted the only break point of the second to set up a super tiebreak.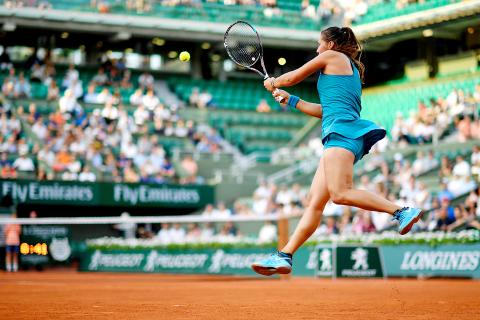 Darya Kasatkina returns to Caroline Wozniacki during their French Open fourth-round singles match in Paris on Monday.
Photo: AFP
The second seeds then won four of the final five points to complete the victory and set up a semi-final against eighth seeds Anna-Lena Groenefeld of Germany and Robert Farah of Colombia, who defeated Abigail Spears of the US and Juan Sebastian Cabal of Colombia 7-6 (7/3), 6-4 in 1 hour, 18 minutes.
In the fourth round of the women's singles, 21-year-old Kasatkina was due to vacate her rented accommodation on the same day she returned to Philippe Chatrier Court to finish off Danish world No. 2 Caroline Wozniacki.
Leading 7-6 (7/5), 3-3 overnight after darkness interrupted their fourth-round clash on Sunday, the 14th seed reeled off three straight games before going off to find a hotel.
Asked later if she would be watching the rest of the day's action on TV she revealed her dilemma.
"I'm not sure if I will watch this match, because my house which I rent expired today and I have to change to [a] hotel," the 14th seed told reporters. "This is the problem. I booked it through Airbnb. So you have to pay in advance, and you never know what is going to happen and if you are in the middle of the second week it's fine to go to the hotel. I'm not complaining."
Kasatkina's longer-than-expected stay is more than welcome.
With so many of the top women's players bashing the ball baseline to baseline with relentless power, lightweight Kasatkina prefers to mix things up a little.
She is not averse to some crafty sliced and high loopy top-spin.
She is not afraid to venture forward and what she lacks in big weapons she more than makes up for with a tennis brain that belies her relative inexperience.
Having knocked out one reigning Grand Slam champion, Kasatkina was yesterday to take aim at US Open champion Sloane Stephens and the American would definitely have to be on guard, having lost to her at Indian Wells this year when the Russian went on to reach the final.
"I'm trying to play more of a strategy game, because I'm not the biggest girl to hit balls so hard," Kasatkina said. "I have to find different ways to win. This is interesting."
Kasatkina is the youngest of the eight quarter-finalists, but former French Open champion Chris Evert said she is dangerous.
"She has had a pretty good run and has the clay-court game," the American said. "She has the slice, the dice and the drop shot, and top-spin. She is definitely dangerous."
Wozniacki agreed after failing to figure her out.
"The slower the surface is, the better for her," Wozniacki said. "She has very good hands, and good angles and everything."
Comments will be moderated. Keep comments relevant to the article. Remarks containing abusive and obscene language, personal attacks of any kind or promotion will be removed and the user banned. Final decision will be at the discretion of the Taipei Times.