Curry dazzles as Warriors take 2-0 lead
'BIG SHOT-MAKER': Stephen Curry had the shot of the night with 7 minutes, 54 seconds left to play, making an off-balance swish from behind the three-point arc
Stephen Curry backpedaled in pure joy.
He skipped, hollered and let the ball fly from everywhere with that feeling he gets when there is no way it will miss — unwavering even with a defender's hand in his face.
Curry on Sunday dazzled in outplaying LeBron James as the two superstars traded big shots and celebratory moves, hitting an NBA Finals-record nine three-pointers and scoring 33 points to lead the Golden State Warriors to a 122-103 victory over the Cleveland Cavaliers for 2-0 series lead.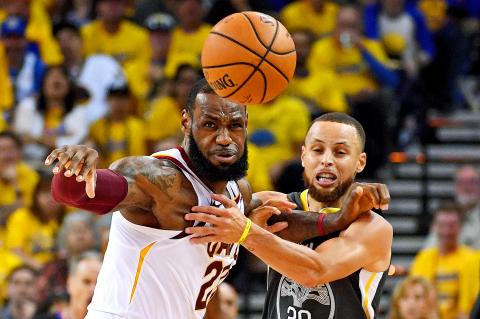 Golden State Warriors guard Stephen Curry, right, and Cleveland Cavaliers forward LeBron James vie for the ball in Game 2 of the NBA Finals in Oakland, California, on Sunday.
Photo: Kyle Terada-USA Today
"Pretty special night, and hopefully some more special things happen and we get two more wins," Curry said.
Kevin Durant found his steady stroke to score 26 points to go with nine rebounds and seven assists while also handling a load of the defensive assignment against James.
Klay Thompson added 20 points playing on a tender left leg to put the defending champions two wins from a repeat title they have talked about since the season began in the fall last year.
James followed up his 51-point performance in Game 1 with 29 points, 13 assists and nine rebounds in a far tamer sequel — and a much more lopsided one — minus the utter craziness of a drama-packed opener three days previously.
Game 3 is tomorrow in Cleveland, Ohio.
"We want to continue to be uncomfortable," James said. "Just because we're going home doesn't mean we can relax."
Kevin Love had 22 points and 10 boards for the cold-shooting Cavaliers, who will now try to gain some momentum back home.
Curry had the shot of the night with 7 minutes, 54 seconds to play, making an off-balance swish from behind the three-point arc over Love as the shot clock wound down, then scooted backward in delight.
Curry fell into the first row of fans with a baseline three again over Love and four-point play at the 5:44 mark of the fourth.
"He's a big shot-taker, big shot-maker," Draymond Green said. "Tough shot-taker, tough shot-maker."
The long shot over Love stood out to Curry's Splash Brother, Thompson.
"About seven seconds on the clock he just kept going backward, I don't know why, but he just threw it up and I didn't think it had any chance of going in," Thompson said. "That was kind of like a dagger shot. It just gave us all the momentum back."
Curry made 11 of 26 shots and was nine of 17 from deep.
James pointed with both hands after his three-pointer with 11:04 remaining got his team within seven points, before Curry answered from deep the next two trips down the floor.
"Those moments when you can come down and answer, and keep the momentum on our side, it's big," Curry said. "Keep the crowd into it."
Comments will be moderated. Keep comments relevant to the article. Remarks containing abusive and obscene language, personal attacks of any kind or promotion will be removed and the user banned. Final decision will be at the discretion of the Taipei Times.