Stanton, Andujar lead Yankees past Orioles 8-5
The New York Yankees have been dominant for most of the season, and they certainly do not need any extra help from the opposition.
So, when the Baltimore Orioles had several gaffes in the field, the Yankees took advantage and pulled away from their American League East rival.
Giancarlo Stanton and Miguel Andujar homered to help Masahiro Tanaka win his fifth straight decision, and the Yankees beat Baltimore 8-5 on Saturday to extend the Orioles' losing streak to seven games.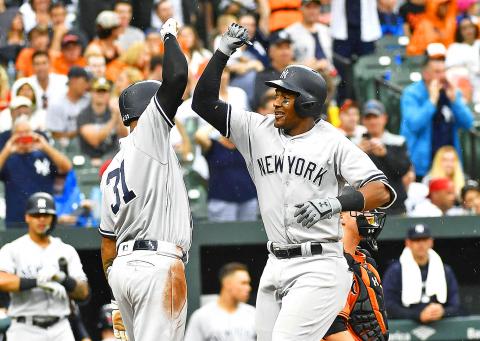 New York Yankees third baseman Miguel Andujar, right, is congratulated by center fielder Aaron Hicks after hitting a two-run homer during the second inning at Oriole Park at Camden Yards in Baltimore, Maryland, on Saturday.
Photo: Brad Mills-USA TODAY
The game was delayed 1 hour and 44 minutes because of rain.
"I was really happy with the guys focus through the delay and all," New York manager Aaron Boone said. "I thought they went out with a really good purpose."
Tanaka (7-2) allowed four runs and eight hits with seven strikeouts and one walk over 5 1/3 innings. He is 5-0 in seven road games this season — the best stretch of his career. However, Tanaka has allowed 15 home runs in his 12 starts this season.
Brett Gardner had a pair of leadoff doubles and scored a run for the Yankees, who have won four consecutive games.
Adam Jones, Joey Rickard and Manny Machado hit solo homers for the Orioles, who scored more than three runs for just the second time in 14 games.
The Yankees capitalized on three defensive miscues by the Orioles in the sixth.
Second baseman Jonathan Schoop had a throwing error on an apparent double-play ball by Gary Sanchez off Kevin Gausman (3-5). A sinking liner to center by Didi Gregorius skipped by Jones, allowing Sanchez to score easily from first. Aaron Hicks followed with a single and Gregorius scored on a throwing error by Jones that extended the lead to 6-2.
Gausman allowed six runs (five earned) and nine hits with nine strikeouts and no walks over 51/3 innings.
"Obviously, that sixth inning was really what beat me," Gausman said.
Machado homered to open the sixth and Tanaka left after allowing another single and walk. Jonathan Holder entered and allowed an RBI double by Danny Valencia that pulled the Orioles to within 6-4.
The Yankees pulled away in the eighth on an RBI single by Hicks and a double by Andujar.
"All that time and effort, all the stuff we put into offseasons and spring training, right now it's not working," Jones said.
Jones gave the Orioles a 1-0 lead in the first with a homer to left-center. The Yankees took the lead an inning later on a two-run shot by Andujar.
"I'm really excited to be here and be part of the team that is winning," Andujar said.
Red Sox 5, Astros 4
In Houston, Texas, Benintendi and Christian Vazquez homered during a three-run seventh inning that lifted Boston over the Houston Astros 5-4 on Saturday night. Holt knocked off his hat, stood on a chair and spread both arms as Benintendi rounded the bases. A bewildered and laughing Cora gave Holt a high-five.
"Whenever you're not playing, you try to do whatever you can to help the team," Holt said. "Tonight, I was able to get Beni a two-run home run."
Former Cy Young Award winners Justin Verlander and David Price each pitched six innings before handing off to the bullpens. Will Harris (1-3) allowed homers to Vazquez and Benintendi in the seventh, setting up Price (6-4) for a victory.
Craig Kimbrel earned his 19th save by striking out two during a scoreless ninth.
Verlander allowed two runs, three hits and two walks while striking out six. He had earned AL Pitcher of the Month in May with an 0.86 ERA in six starts.
"I thought he threw nine or 10 innings worth of game in a six-inning game," Astros manager A.J. Hinch said. "They really made him work. They have guys over there that give him a little bit of trouble. I thought they worked him very hard."
J.D. Martinez scored Benintendi following a leadoff walk in the first inning. It was just the second time in 23 starts with Houston, including the playoffs, that Verlander allowed a run in the first inning.
Martinez added another RBI single in the sixth.
Martinez, who entered Saturday with an MLB-leading 48 RBIs, has driven in a run in four of his last six games at Minute Maid Park against his former team.
The Astros put the lead back in Verlander's hands in the third inning when Alex Bregman hit a cutter into the Crawford Boxes for his sixth homer. In the previous inning, Marwin Gonzalez tied it with a triple to deep center that scored Yuli Gurriel.
Gurriel had an RBI single that scored Jose Altuve in the eighth to trim Boston's lead to 5-4.
Price threw a season-high 109 pitches, but grew increasingly efficient in his later innings, retiring the last 11 batters he faced. He allowed five hits and three runs while walking one and striking out seven.
"The way we went out there and battled back there in that seventh, that was huge, especially the way Verlander has been throwing the baseball," Price said.
In other results, it was:
‧ Tigers 7, Blue Jays 4
‧ Brewers 5, White Sox 0
‧ Royals 5, Athletics 4
‧ Twins 7, Indians 1
‧ Nationals 5, Braves 3
‧ Padres 8, Reds 2
‧ Giants 2, Phillies 0
‧ Cardinals 3, Pirates 2
‧ Cubs 7, Mets 1
‧ Dodgers 12, Rockies 4
‧ Rangers 3, Angels 2
‧ Mariners 3, Rays 1
Comments will be moderated. Keep comments relevant to the article. Remarks containing abusive and obscene language, personal attacks of any kind or promotion will be removed and the user banned. Final decision will be at the discretion of the Taipei Times.