Pitcher Tanaka leads Yankees over fellow Japanese star Ohtani, Angels
When they finally met up once more, Masahiro Tanaka was too much for Shohei Ohtani.
Tanaka on Sunday scattered three hits over six strong innings, twice striking out Ohtani, as the New York Yankees defeated the Los Angeles Angels 3-1.
Although Ohtani was pushed back from his scheduled start due to what the Angels called "workload management," Tanaka (6-2) held up his end up of the highly anticipated pitchers' duel between Japanese stars that never materialized.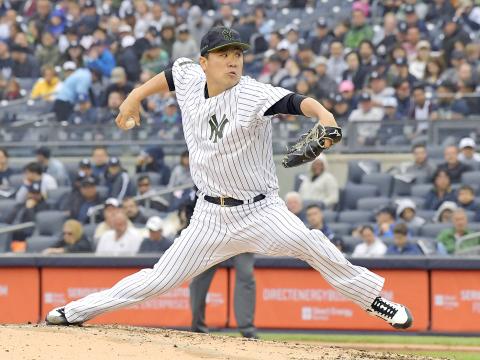 Masahiro Tanaka of the New York Yankees pitches against the Los Angeles Angels in their American League game at Yankee Stadium in New York on Sunday.
Photo: AP
"We were supposed to pitch against each, but it ended up with him getting into the batter's box and facing him as a batter, which might have been the real matchup," Tanaka said through a translator.
Ohtani first batted with two outs and a runner on in the first inning.
Greeted with a loud chorus of boos, Ohtani stepped to the plate against Tanaka for the first time since they played against each other in 2013.
Tanaka, who is 29 and six years older than Ohtani, quickly fell behind the two-way star before inducing a swinging strikeout much to the delight of the crowd.
Ohtani went none for two with a walk against the Yankees right-hander and is now none for 13 with two walks in all competition against Tanaka.
"Obviously, he's not an easy out," Tanaka said. "He's very selective. I got two outs from him today, but it wasn't easy."
Ohtani went none for nine with five strikeouts in the series.
Tanaka extended the longest hitless stretch of his young major league career.
"I felt like he threw more breaking balls this time around than when he was in Japan," Ohtani said through a translator. "It felt a little different because American pitchers they throw mostly fastball, but he kind of pitched me backwards, so that felt a little different."
Brett Gardner had three hits for New York, who have won five of six against the Angels this season.
Featuring his splitter, Tanaka struck out eight and allowed just Andrelton Simmons' sixth-inning home run in his longest outing in nearly a month.
One day after he homered and had three doubles in the first five-hit game of his career, Mike Trout went none for four.
Pitching on his 30th birthday, Garrett Richards (4-4) continued his struggles against New York.
The right-hander allowed three runs over 2-1/3 innings and matched a season high with five walks.
Comments will be moderated. Keep comments relevant to the article. Remarks containing abusive and obscene language, personal attacks of any kind or promotion will be removed and the user banned. Final decision will be at the discretion of the Taipei Times.