Hedman, Lightning beat Caps to cut deficit to 2-1
Victor Hedman figured all the Tampa Bay Lightning needed to get back on track was a shift in momentum.
The big defenseman on Tuesday took it upon himself to provide it.
Hedman scored his first goal of the playoffs and added two assists, while Andrei Vasilevskiy stopped 36 out of 38 shots to help the Lightning beat the Washington Capitals 4-2 in Game 3 of the Eastern Conference Finals and cut their series deficit to 2-1.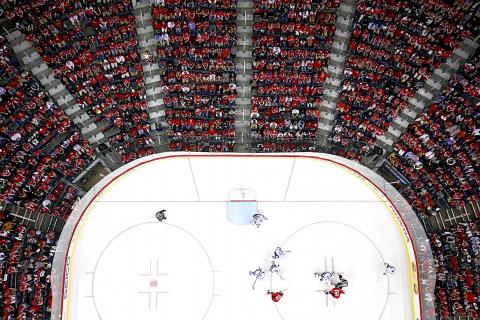 The Tampa Bay Lightning play the Washington Capitals in Game 3 of the Eastern Conference Finals on Tuesday in Washington.
Photo: AFP
Hedman had the primary assist on power-play goals by Steven Stamkos and Nikita Kucherov, and was a key part of three big penalty kills for Tampa Bay.
"I'm put in a position to produce, and I put that pressure on myself to do it," Hedman said. "For me, it's about being effective at all ends of the ice and trying to be a difference-maker every time I step on it."
Hedman was dominant all over the ice as Tampa Bay looked like an entirely different team than the one who lost the first two games of the series at home and now has a chance to tie it in Game 4 today.
The Norris Trophy finalist who played a team-high 25 minutes, 8 seconds was most proud of successful penalty kills.
"He's a perennial Norris guy," Stamkos said of Hedman. "We can't describe how good he is out there. We rely on him a ton. He's a horse and most nights, if he's going well, we're going well as a team."
It was not perfect, but it was a more complete effort from Tampa Bay, who jumped out to a 3-0 lead before Brett Connolly answered for Washington in the second.
Brayden Point's goal less than five minutes later allowed the Atlantic Division champions to play with a comfortable lead that survived Evgeny Kuznetsov's six-on-five goal with 3 minutes, 2 seconds remaining.
Vasilevskiy was a big part of holding on to the lead as he made seven saves on the penalty kill as part of a bounce-back performance after being criticized for his play earlier in the series.
It was not perfect, but the Lightning began to make it up to Vasilevskiy for hanging him out to dry on so many odd-man rushes in Games 1 and 2 by improving their defensive-zone play.
"We always feel like we owe him," defenseman Anton Stralman said. "He's our best player. He's always there. He's always there for us and tonight we did a good job in front of him."
The Capitals outshot the Lightning 38-23, but did not help goaltender Braden Holtby with six minor penalties. Holtby allowed four goals, but was helpless on the one-timers on the power play by Stamkos and Kucherov.
"We know both teams have pretty good special teams and if we're going to play like that, they're going to use it," Capitals captain Alex Ovechkin said. "Obviously, you can see we didn't score, they scored."
Tampa Bay got two injury scares in the third period, when Stamkos hobbled off after taking a slap-shot from teammate Braydon Coburn on the right knee and Tyler Johnson was cross-checked by Michal Kempny.
Comments will be moderated. Keep comments relevant to the article. Remarks containing abusive and obscene language, personal attacks of any kind or promotion will be removed and the user banned. Final decision will be at the discretion of the Taipei Times.