Celtics pull away with win No. 2
DOWN ON THE COUNT: The Celtics 'did what they had to' at home, but now the Cavs will have home-court advantage as they try to overturn Boston's perfect 2-0 lead
Jaylen Brown on Tuesday scored 23 points as the Boston Celtics overcame a 42-point performance from LeBron James to beat Cleveland 107-94 and take a 2-0 lead in the Eastern Conference Finals.
Terry Rozier added 18 points, while Al Horford finished with 15 points and 10 rebounds for the Celtics, who improved to 8-0 this post-season at the Boston Garden.
"We really lean on him," Brown said of Horford. "He has been doing it all year. That is why they pay him the big bucks."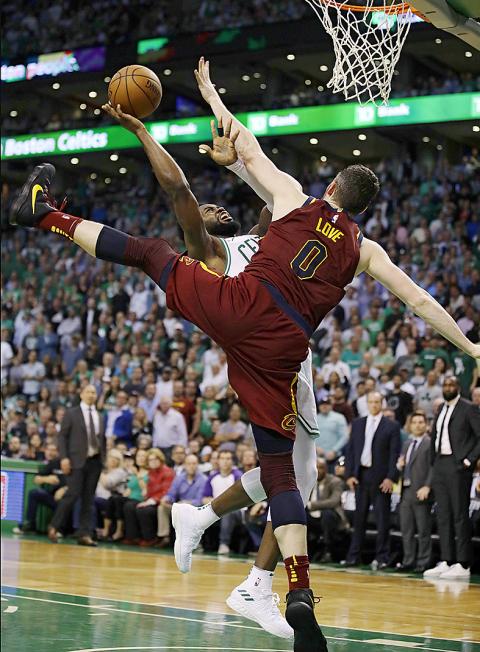 Boston Celtics guard Jaylen Brown, rear, drives to the basket as Cleveland Cavaliers center Kevin Love guards during their playoff game on Tuesday in Boston, Massachusetts.
Photo: AP
The Celtics, who overcame a double-digit deficit, have never blown a 2-0 series lead in the post-season. Game 3 is on Saturday in Cleveland.
Brown said they cannot let up in Game 3, because James usually raises his game another notch after a loss.
"We need tremendous focus. He [James is] one of best players of all time, but if there is anybody I would put my money on, it would be this group," Brown said.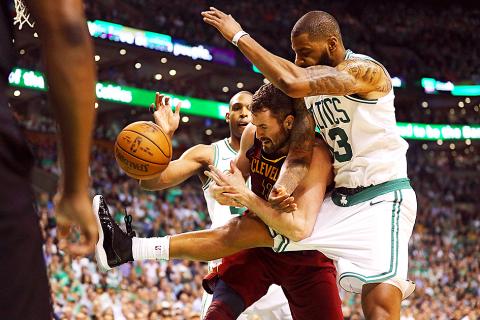 Kevin Love of the Cleveland Cavaliers, center, battles for the ball with Marcus Morris of the Boston Celtics, right, during their playoff game on Tuesday in Boston, Massachusetts.
Photo: AFP
The Celtics used a balanced attack as a half dozen players reached double figures. Cleveland had 15 turnovers leading to 13 Boston points, while the Celtics had just six turnovers.
James also delivered 12 assists and 10 rebounds, scoring 21 of Cleveland's 27 points in the first quarter.
His 42 points marked his fifth 40-point game of these playoffs. James had just 15 points and missed all five of his three-point attempts in the Cavs' Game 1 defeat.
"We have the opportunity go back home and take home court," James said. "They did what they had to do to protect home court and now it is our time as well. We will see what we are made of on Saturday."
The game got physical as the Celtics pulled out all the stops to try and contain James.
James appeared to strain his neck in a first-half collision. The Cavaliers sagged in the second half, when they were outscored 59-39 by the Celtics.
Cleveland coach Tyronn Lue said they need to be more physical.
"We got to be tougher mentally and physically," Lue said. "They are gooning it up and we have got to do the same thing."
Kevin Love finished with 22 points and 15 rebounds for Cleveland.
Kyle Korver came off the bench to score 11 points, but starters Tristan Thompson, J.R. Smith and George Hill combined for just 11 points in the loss.
"Down the stretch we took some bad shots," Lue said. "We didn't close the half the way we wanted to and they had a big third quarter. In the third quarter we had some miscommunication on defense and they scored some easy baskets."
Comments will be moderated. Keep comments relevant to the article. Remarks containing abusive and obscene language, personal attacks of any kind or promotion will be removed and the user banned. Final decision will be at the discretion of the Taipei Times.