Obstacle racing chases mainstream, including Olympics
On a concourse down Citi Field's first-base line, warriors of all shapes and sizes scaled a 6m-tall cargo net, flipped over the top of the A-shaped structure and crawled down the other side.
In the left field grandstands, they carried heavy bags of sand up and down the stairs. On the warning track in center field, they scaled 2m walls and slammed medicine balls into the dirt, and behind home plate, they emerged sweat-drenched and smiling from a clustered gauntlet of punching bags, jogged through the finish line and had medals placed around their necks.
"Every time I come to one of these, it always tests your limits," said Matt Judson, one of more than 10,000 Spartan racers who maneuvered the course that day.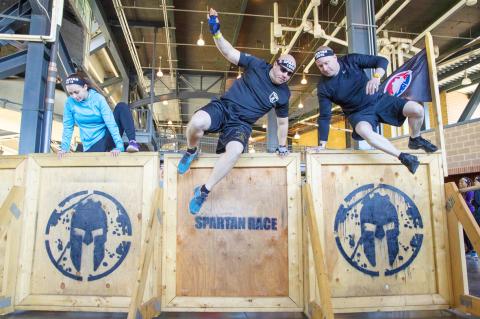 Members of team Moveable Ink jump over the first obstacle during the Spartan Citi Field Stadium Sprint in New York City on April 21.
Photo: AP
That is just what Spartan Race founder and CEO Joe De Sena had in mind when he put on the company's first race in 2007.
De Sena did not invent obstacle course racing, but he has helped bring it to the mainstream. Spartan has attracted more than 5 million participants and will run races in more than 30 nations this year, and De Sena is eyeing further growth, setting a goal of 100 million participants and entry into the Olympics.
Spartan holds more than 200 races annually — some in stadiums, but many more carved into the terrain. There are dozens of races slated throughout Europe, and even Mongolia and Thailand are to stage events on this year's circuit.
Other similar brands, like Tough Mudder, Rugged Maniac and Warrior Dash, are also increasingly pulling people off the couch.
This level of participation was unthinkable when De Sena first encountered obstacle course racing in the mid-1990s. What he found then was a niche community and "a very disorganized industry" with an estimated 20,000 to 30,000 people involved globally.
"In the mid-90s and 2000s, there was a specific kind of adventurous person taking a stab at a race like that," De Sena said. "It was a small community."
The shift came around 2010. Soldiers returning from wars in Afghanistan and Iraq sought weekend activities more extreme than beer league softball. CrossFit and other workout programs were encouraging a generation of people eager for outlandish ways to test their fitness, and social media was making it easier than ever to get the word out.
"It just happened. Grandmothers, kids, everybody was attracted to this thing," De Sena said.
The races are difficult for everybody, but even people with below-average fitness can make it to the finish line. That level of accessibility has made obstacle racing an increasingly popular team-building experience for companies.
Amanda Hansen, 35, runs 13km to 20km per week and felt pretty good at the end of the course. Her husband, John Hansen, struggled with all the stairs.
"I didn't train at all, and it was the dumbest thing I probably ever did," he said.
Even though the course whipped him, John was already planning to do another race.
"Just the adrenaline," he said. "Your heart gets going, you just want to finish. You just want to finish that race and say: 'I did it.'"
De Sena knows that is the way to get people hooked — get them on the course, and they will keep coming back.
Making that initial connection is the key, and Spartan is working many avenues to raise awareness of the sport. It does well on social media, through word-of-mouth and it even has a show on NBC.
However, one platform in particular could be crucial to helping De Sena reach his 100-million person goal: the Olympics.
De Sena helped launch the International Obstacle Racing Federation — now known as the World OCR — in 2014. The federation is working with more than 60 nations and expects to reach 75 by the end of next year, a key threshold in lobbying for Olympic status.
"I think we'd be really good for the Olympics," De Sena said. "We have such a giant audience."
And one that keeps coming back. Judson ran his first race with coworkers in Florida a few years ago. He will add a fourth with a race in Vermont later this year.
"The camaraderie, it brings everyone closer together," he said. "Kind of like a family, almost."
Comments will be moderated. Keep comments relevant to the article. Remarks containing abusive and obscene language, personal attacks of any kind or promotion will be removed and the user banned. Final decision will be at the discretion of the Taipei Times.