Feuds and brawls eclipse Brothers, Guardians series
The Fubon Guardians won two out of three games against Brothers Baseball Club in New Taipei City over the weekend, but ongoing feuds involving bench-clearing brawls and accusations of pitchers deliberately aiming to injure star players overshadowed the scorelines.
Things nearly got out of hand as fans on both sides shouted insults at opposition players, while Fubon slugger Chiang Chih-hsien had to be taken out of one game.
In the series finale on Sunday, Brothers rookie pitcher Chen Hu poured oil on the fire when he threw pitches at two of Fubon's top players, first baseman Lin Yi-chuan and outfielder Lin Che-hsuan.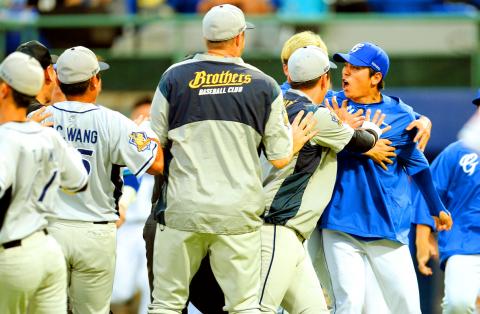 Brothers Baseball Club and Fubon Guardians players get involved in a bench-clearing brawl during their CPBL game at Sinjhuang Stadium in New Taipei City on Sunday after Guardians batter Lin Yi-chuan was hit by a pitch.
Photo: Lin Cheng-kung, Taipei Times
The former was hit on the lower leg and the latter was struck on a forearm, with both sustaining minor injuries.
Each hit saw all the players rush out to the diamond to confront each other in angry exchanges.
Fubon believed Chen had deliberately aimed at the two players, intending to knock them out of the game, while Chen insisted he did not do so, but merely had bad control over his pitches.
Fubon starter Mike Loree prevailed in the 1-0 win as he tossed seven innings in combining with two relievers for a three-hit shutout.
The fuse was lit in the first game on Friday, when the two teams began the series at Sinjhuang Stadium with two bench-clearing incidents due to brush-back pitches and hit batsmen.
After the series, Fubon Guardians general manager Chris Tsai on Monday released a statement in an effort to protect the players on his team.
"We hope there will be no more personal attacks against players," Tsai said, "The crowd control at baseball games will be enhanced and for serious incidents we will remove fans from the ballpark."
Tsai was referring to games at Sinjhuang Stadium, where he has invested US$4.1 million to renovate and upgrade the facilities after he announced that it would become the home ballpark for the Guardians starting this season.
At the start of the CPBL season, which began on March 24, fans had expected heated rivalry between the two teams due to controversies and contentious issues from last year.
Citing improper personal conduct, including accusations of sexual proclivities, partying after curfew and other allegations, Brothers Baseball Club released a number of starters last year and Fubon elected to pick up four of them, including Chiang Chih-hsien and Chang Cheng-wei.
The four new additions reportedly made an extra effort against their former team in a bid to prove it was a mistake for the owner and American head coach Cory Snyder to cut them loose on account of the alleged wrongdoing.
In Friday's bench-clearing episode, Chiang shoved Snyder, which raised the ire of the Brothers fans, who said Chiang had broken the unwritten rules of baseball.
In Saturday's and Sunday's contests, Brothers fans vociferously hurled insults at Chiang and accused him of moral failure and having a deficient personality.
Chiang later left the field, with the official reason given that he had a "breathing problem" and was in no condition to continue playing.
Comments will be moderated. Keep comments relevant to the article. Remarks containing abusive and obscene language, personal attacks of any kind or promotion will be removed and the user banned. Final decision will be at the discretion of the Taipei Times.