I can return to highest level, Djokovic says
Novak Djokovic on Thursday said that he believes he will return to the top of world tennis after continuing his injury comeback with a third-round defeat by Dominic Thiem in Monte Carlo.
The former world No. 1 has not won a Grand Slam title since the 2016 French Open and has failed to reach a quarter-final at any of his four tournaments since Wimbledon in July last year.
Djokovic also said that he would play in either Budapest or Barcelona next week as a wild card as he continues his return from an elbow injury.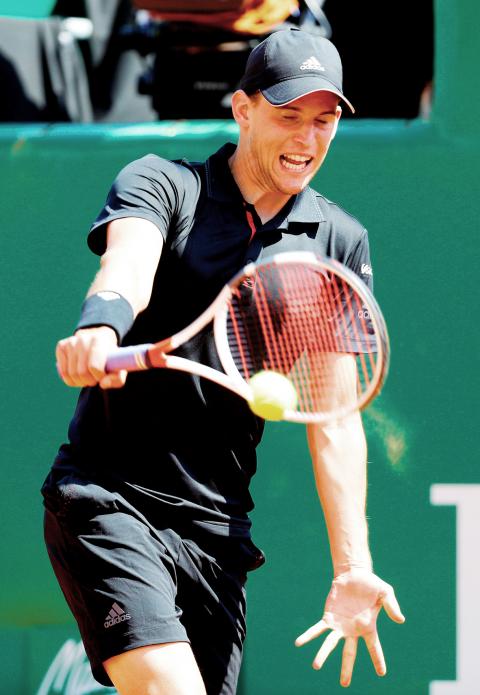 Austria's Dominic Thiem returns to Novak Djokovic of Serbia in their Monte Carlo Masters third-round singles match in Monaco on Thursday.
Photo: Reuters
"Ideally, I'd want to be playing the way I played for so many years, but obviously patience is required, trust in the process, believing in myself, in my game, people around me," the world No. 13 said.
"I really believe that if I continue doing what I'm doing so far, believing in myself, I know eventually I'm going to get there [to the top of the game]. I'm going to get there," he said.
Djokovic is to continue working with long-time former coach Marian Vajda until the end of the clay-court season after linking up with the Slovak again for the first time in almost a year in Monaco.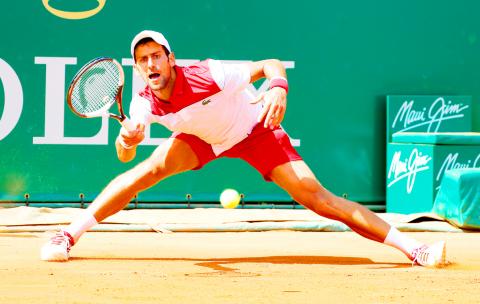 Serbia's Novak Djokovic returns to Dominic Thiem of Austria in their Monte Carlo Masters third-round singles match in Monaco on Thursday.
Photo: Reuters
"I'm feeling like it's been getting better every day," Djokovic added after losing 6-7 (2/7), 6-2, 6-3 to Thiem. "I've had three matches here. I didn't expect anything. I played without pain in the elbow, which is important. I have my coach Marian back in the box. So lot of good things. It was a lot of positives in this tournament. Three matches played."
The 12-time Grand Slam champion was playing in only his fourth tournament since last year's Wimbledon, after losing his opening matches at both Indian Wells and Miami to Taro Daniel and Benoit Paire respectively.
Djokovic admitted that he is still finding his way back to full fitness, although he did say he is playing pain-free for the first time in two years.
"With the elbow, it's been quite a story over the last two-and-a-half years," he said. "Whether my elbow can be hurt if I play too long consecutively, I don't know... I've done, with people around me, everything in our power to get my elbow in the best possible shape. I'm really happy with the way things are working out right now with the elbow. That's all I can say."
Austrian Thiem is one of the best clay-court players on the ATP Tour, having reached the French Open semi-finals in each of the past two seasons, and he was impressed by his vanquished opponent's performances in Monaco.
"I think he's on the rise again, for sure," Thiem said. "I think [it's an] amazing decision by him to take Marian Vajda back because it's the coach he won everything with almost. I'm pretty sure that we're going to see him at the very top of the game pretty soon."
Comments will be moderated. Keep comments relevant to the article. Remarks containing abusive and obscene language, personal attacks of any kind or promotion will be removed and the user banned. Final decision will be at the discretion of the Taipei Times.