'For all women': Single mom plans ninth Everest climb
Between raising two daughters and working as a dishwasher at Whole Foods, Lhakpa Sherpa just does not have time for training to climb Mount Everest. Even so, she has done it a record eight times — and hopes to outdo herself yet again.
The 44-year-old native of Nepal holds the world record for summits of Everest by a woman and plans to return this month for what has become an annual expedition to the top of the world.
"My body knows that I have already been this high. It's like a computer. It figures it out very quickly. My body knows the high altitude. It remembers," she said.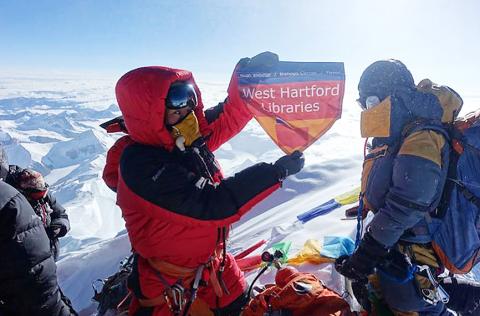 Lhakpa Sherpa displays a flag from West Hartford, Connecticut, on the summit of Mount Everest in Nepal in May last year.
Photo: Lhakpa Sherpa via AP
Lhakpa Sherpa is recognized by Guinness World Records and is well known in mountaineering circles, but she spends most of the year living a modest life in obscurity in Connecticut, where she moved in 2002 with her now ex-husband, another well-known climber.
She gets up at 6am to walk her two daughters, 16-year-old Sunny and 11-year-old Shiny, to school. Then, because she does not know how to drive, she often walks the 3.2km to her job, where she washes dishes and takes out the garbage.
"You would never know she hiked Everest unless you knew her and talked to her about it," said Dan Furtado, the manager who hired Lhakpa at Whole Foods. "She's the most humble person I know and her work ethic is astounding."
Lhakpa said that she would have liked to be a doctor or pilot, but that as a girl growing up in the Sherpa ethnic community with her four brothers and seven sisters, she was not allowed to attend school.
Without a formal education, she has taken jobs cleaning houses, as a clerk at a local convenience store and as a dishwasher to give her daughters and now-grown son a chance at a better life in the US, she said.
Lhakpa said she is used to overcoming adversity. Sherpa girls were discouraged from climbing, but she would not be deterred from helping the men in her family, serving as a porter to bring gear to Everest base camps.
Becoming a climber was harder, she said, especially after the first Nepalese woman to reach the summit, Pasang Lhamu Sherpa, died on her way down the mountain in 1993.
Lhakpa joined an expedition of five women in 2000 who convinced the government to give them a permit. She was the first Napalese woman to reach the summit and return alive.
The record for successful climbs to the top of Everest is 21, shared by three Sherpa men who worked as mountain guides. Two have retired from climbing, but the third, Kami Rita, told reporters that he was heading to Everest to attempt his 22nd climb.
Anne Parmenter, a field hockey coach at Trinity College in Hartford, climbed with Lhakpa on an ill-fated Everest expedition in 2004. There were serious issues with that climb, including a physical confrontation between Lhakpa and her husband at the time that left Lhakpa unconscious.
Parmenter said it is impressive to see what Lhakpa has been able to overcome, both physically and mentally.
"She's obviously been blessed with amazing physiology that allows her to live here, not train, and go back and adapt very quickly to that high-altitude environment," she said. "She can do that, function and be really strong."
"I wanted to show that a woman can do men's jobs. There is no difference in climbing a mountain. I climb for all women," Lhakpa said.
Lhakpa said she does have some fears about climbing, especially who would take care of her daughters if there were an accident on Everest. She was at a camp in 2015 when an earthquake triggered avalanches that killed 19 people on Everest.
Her daughter Shiny says it was a week before they received the telephone call telling them their mother was alright.
Lhakpa saves up each year for the plane ticket back to Nepal and climbs with an expedition company run by one of her brothers.
They are to guide about 50 people, mostly Europeans, up the mountain this year, she said. Next year, she plans to make a second attempt to summit K2 — the world's second-highest peak — for the first time.
This season, for the first time, she has a sponsor. Black Diamond, a mountain sports equipment company, is outfitting her with gear and providing monetary support.
"It's clear from everything about her life that the word 'can't' is not in her lexicon," Black Diamond content manager Chris Parker said.
Lhakpa also received a proclamation last month from her adopted hometown of West Hartford that proclaims her the "Queen of Mount Everest."
However, to many of her coworkers, she is just Lhakpa.
"I don't need to be famous," she said. "I want to keep doing my sport. If I don't do my sport, I feel tired. I want to push my limits."
Comments will be moderated. Keep comments relevant to the article. Remarks containing abusive and obscene language, personal attacks of any kind or promotion will be removed and the user banned. Final decision will be at the discretion of the Taipei Times.