Wizards spellbound by rampant Raptors' record half
DeMar DeRozan on Tuesday scored 37 points as the Toronto Raptors overwhelmed the Washington Wizards 130-119 to take a 2-0 lead in their best-of-seven playoff series.
A record-breaking first-half performance laid the foundations for the Raptors, who had surged into a 76-58 lead at half-time to leave Washington chasing an 18-point deficit after the break.
DeRozan, who also contributed four assists and five rebounds, spearheaded a rampant Toronto offense, which saw six players finish with double-digit points tallies.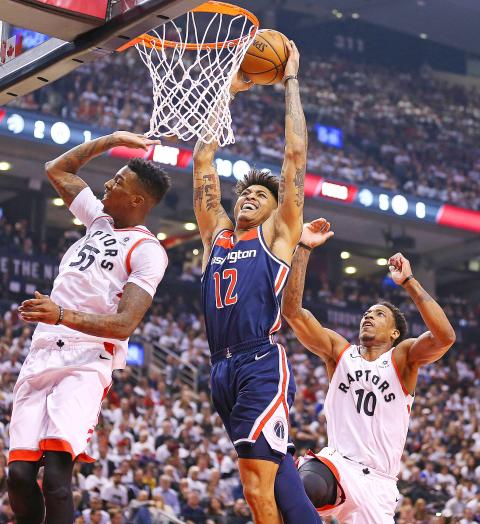 Kelly Oubre Jr of the Washington Wizards, center, goes up for a dunk against the Toronto Raptors on Tuesday in Toronto.
Photo: AFP
"I just let the game come to me," DeRozan said. "It's not like I go out there thinking I have to score 30 or 40 points. Tonight I just wanted to be aggressive."
Jonas Valanciunas scored 19 points, while C.J. Miles had 18 off the bench as Toronto took a firm grip on the series with Game 3 set for Washington tomorrow.
"We're strong as a team, it's not about individual players," Valanciunas said. "We did it as a team tonight. We were great defending, helping each other. It's a team sport and when you play together and support each other it's fun."
Washington's resistance was led by John Wall with 29 points, but the Wizards were rarely in the contest, save for one late rally as the top-seeded Raptors eased up.
Earlier, the Raptors wasted no time in forging ahead during a lopsided first half. Toronto powered into a 24-11 lead midway through the first period and were soon 34-13 up.
Toronto maintained a 20-point cushion through most of the first half and they quickly passed their franchise record points tally of 63 to finish with 76 as the halftime buzzer sounded at the Air Canada Center.
CELTICS 120, BUCKS 106
Second seeds Boston shrugged off their injury crisis to down Milwaukee 120-106 to take a 2-0 lead in their first-round series.
The Celtics are still reeling from confirmation that star Kyrie Irving is to miss the rest of the season, but the Boston club produced a dominant display to seal a win that puts them firmly in the driving seat in the series.
Jaylen Brown shouldered the offensive burden in Irving's absence, scoring 30 points in 33 minutes on court.
Brown said the Celtics were unfazed by the raft of injuries that has threatened to derail their season.
"I don't pay attention to that — ultimately we just want to win games," Brown said. "We're confident as ever. Teams have been writing us off all year and we just keep proving people wrong."
Terry Rozier had 23 points with eight assists on a night when six Celtics put up double figures.
Giannis Antetokounmpo led the scoring for the Bucks with 30 points, with Khris Middleton adding 25 in a losing effort.
PELICANS 111, TRAIL BLAZERS 102
In Portland, Oregon, New Orleans took a 2-0 lead in their series against the Trail Blazers with a 111-102 victory.
Jrue Holiday scored 33 points — including 12 in a fourth quarter — to guide New Orleans home, with Anthony Davis adding 22.
C.J. McCollum led the scoring for the Blazers with 22 points, while Damian Lillard was effectively nullified by the Pelicans' defense, scoring just 17 points.
Comments will be moderated. Keep comments relevant to the article. Remarks containing abusive and obscene language, personal attacks of any kind or promotion will be removed and the user banned. Final decision will be at the discretion of the Taipei Times.