Ronaldo's 'most beautiful goal' buries Juve
Cristiano Ronaldo on Tuesday scored a record-breaking goal and a stunning overhead bicycle-kick to bury Juventus 3-0 in a rematch of last year's Champions League final.
Ronaldo became the first player to score in 10 consecutive Champions League games just as Real Madrid beat Juventus 3-0 in the first leg of the quarter-finals in Turin, but it was his second goal that everybody will remember.
The Portuguese superstar surpassed himself with a breathtaking overhead hit from inside the box to help put holders Real Madrid closer to the semi-finals.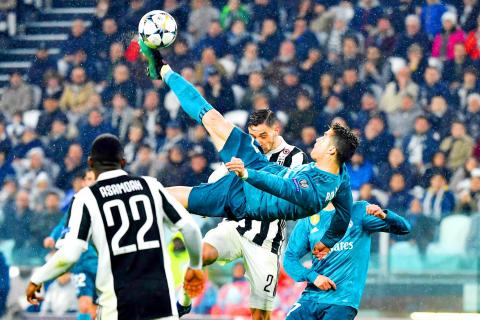 Real Madrid forward Cristiano Ronaldo, center, bicycle-kicks the ball on Tuesday to score against Juventus in their UEFA Champions League quarter-final first leg match at Allianz Stadium in Turin, Italy.
Photo: AFP
"One of the most beautiful goals in the history of football," Real Madrid coach Zinedine Zidane said.
It took Ronaldo only 2 minutes and 47 seconds to open the scoring in Turin, flicking in Isco's cross.
However, the jeers of the home fans turned to applause and earned him a standing ovation after 64 minutes when Dani Carvajal crossed back into the area where Ronaldo connected with an outrageous bicycle-kick.
Ronaldo responded by putting his hand to his heart and giving a slight bow of gratitude to the crowd.
"The applause for Cristiano says it all," Carvajal said.
"Cristiano does things sometimes that only he can do," Zidane said. "It can be said that it is one of the most beautiful goals in the history of football."
"It's maybe not as beautiful as mine in Glasgow," said Zidane of his goal against Bayer Leverkusen in 2002 that gave Real their ninth Champions League title.
"I'm the coach, but I'm also a football fan, when I see something like that ... that's why Ronaldo is different from others because he can do that kind of thing. I'm happy for him and happy to have him on our team," Zidane said.
Ronaldo has been on a goalscoring streak of 19 goals in his last nine games for Real — 28 this year — a feat which even Zidane has said makes him jealous.
He has now scored 16 goals in his past 10 Champions League games — 14 goals this season and a double in last year's final against Juventus.
He holds the record for Champions League goals scored with 119.
"The Juventus fans applauded Ronaldo, but also for his team," Zidane said. "It's beautiful. You don't see that everywhere."
Juventus coach Massimiliano Allegri admitted he was amazed by Ronaldo's ability to change his style of play in his 30s to adapt to losing some of his once-searing pace.
"I don't know if Ronaldo's goal is the best in football history, but it's really an extraordinary goal, you can only congratulate him on what he's doing at present," Allegri said.
"The applause is a beautiful lesson from the Juventus fans to the whole world, football is a show, when you have 22 or 30 high level players and you see a shot like this one it's good to applaud."
The five-time world soccer player of the year has now scored in his last six matches against veteran Juventus goalkeeper Gianluigi Buffon, netting nine in total.
"We saw what Ronaldo is and always has been — a player of an extraordinary level who along with Leo Messi is achieving the greatest heights," Buffon said. "This means they can be compared to [Diego] Maradona and Pele for the way they ultimately are able to decide matches and trophies won by their teams."
"When you play against one of the best players in the world, like Cristiano Ronaldo, you need perfection, if you leave space he punishes you, and then he invented a goal that will remain in history. It's a pity that he did it to us," defender Andrea Barzagli said.
Not only was the world of soccer talking about Ronaldo's goal, NBA star Lebron James published a photograph on Instagram of the action and world MotoGP champion Marc Marquez, a Barcelona fan, tweeted: "Bufff what a great goal for CR7!!!"
"Cristiano Ronaldo can now leave the Earth and start playing against the Martians, he has done everything here!" Real Madrid defender Alvaro Arbeloa tweeted.
"Seen a lot of great goals in my time but that is absolutely breathtaking from Ronaldo," former England player Gary Lineker tweeted.
"The opposing fans in the stadium applauding the great @cristiano after the bicycle kick and rightly so. Keeps on upping the ante — relentless!" former England player Rio Ferdinand tweeted.
There was also humor from English soccer player Peter Crouch, who once scored a similar goal for Liverpool and who wrote on Twitter: "There is only a few of us who can do that."
Comments will be moderated. Keep comments relevant to the article. Remarks containing abusive and obscene language, personal attacks of any kind or promotion will be removed and the user banned. Final decision will be at the discretion of the Taipei Times.