Capitals top Penguins to clinch Metropolitan title
There was no dog pile in the dressing room. No champagne celebration. Not even a beer.
Nothing.
The Washington Capitals have been here before. Many times, actually.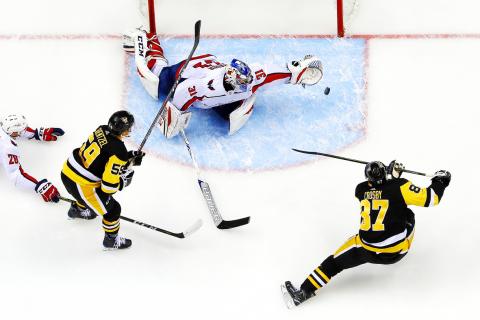 Washington Capitals goaltender Philipp Grubauer, top, gloves a shot by Sidney Crosby of the Pittsburgh Penguins, right, in their NHL game in Pittsburgh, Pennsylvania, on Sunday.
Photo: AP
It is not that they do not appreciate winning Metropolitan Division title after Metropolitan Division title like the one they wrapped up with a 3-1 victory over rivals Pittsburgh on Sunday. It is just that they are tired of division banners being the only ones raised to the rafters.
Still, star Alex Ovechkin knows not all playoff runs are created equal.
The group that skated off the ice at PPG Paints Arena after keeping the two-time defending Stanley Cup champions in check for three taut and occasionally chippy periods is not the juggernaut that rolled into the post-season in 2015-2016 and 2016-2017 only to be sent home in the second round by Pittsburgh.
"We lost lots of players," Ovechkin said after playing in his 1,000th career regular-season game. "Guys in the locker room, experience guys, but different guys step up and they play different... We play as a team."
One that hopes following a familiar script will lead — at last — to an unfamiliar ending.
Philipp Grubauer made 36 saves to continue his push to supplant Braden Holtby as Washington's top goaltender as the Capitals won for the 10th time in 12 games to assure themselves of home advantage through the first two rounds of the playoffs.
"We had a challenge there from the beginning [of the season] on," Grubauer said. "We lost a couple experienced guys. We learned from our mistakes and we're still learning. It's nice to wrap that up, for sure."
T.J. Oshie, Dmitry Orlov and Tom Wilson scored for Washington, and Grubauer did the rest, including a spectacular glove save on Penguins star Sidney Crosby in the third period.
Patric Hornqvist picked up his 27th of the season late in the third period to avoid a shutout.
A night after earning a playoff berth for a franchise-record 12th straight year, the Penguins lost at home in regulation for just the second time since Jan. 4 to end a late push for a division crown.
Not that it matters much to Pittsburgh.
The Penguins have ended each of the past two regular seasons as the division runners-up to Washington and each time the Penguins have used a second-round playoff series victory over the Capitals as a springboard to the Stanley Cup.
"We never win [the] division," Pittsburgh center Evgeni Malkin said. "It's not first time. It's not [a] surprise. We're fine."
Comments will be moderated. Keep comments relevant to the article. Remarks containing abusive and obscene language, personal attacks of any kind or promotion will be removed and the user banned. Final decision will be at the discretion of the Taipei Times.