Del Potro upsets Federer, Osaka claims first title
Juan Martin Del Potro, once one of tennis' hottest young talents before his career was derailed by injuries, on Sunday won the BNP Paribas Open men's singles title two years after almost quitting in frustration.
"I couldn't imagine this moment. I mean, everybody knows I was really close to quitting tennis before my third surgery on my left wrist," Del Potro said after upsetting world No. 1 Roger Federer 6-4, 6-7 (8/10), 7-6 (7/2). "I made a big effort to come back. I have everything what I want and I want to keep improving my game to see what can I do. I had very bad moments a few years ago and I don't want to think about that anymore. I am just enjoying my life and playing around the world. I am exited to see what is next."
World No. 8 Del Potro is back in the top 10 for the first time since 2014.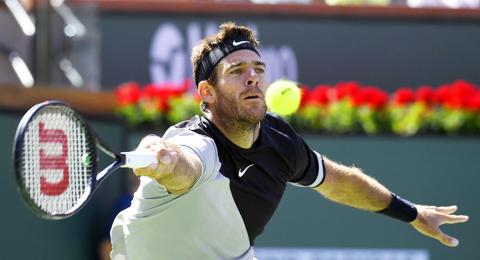 Argentina's Juan Martin del Potro returns to Roger Federer of Switzerland in the BNP Paribas Open men's singles final in Indian Wells, California, on Sunday.
Photo: AP
He dropped to No. 1,045 before beginning his comeback from the left-wrist surgeries in 2016.
The Argentine 29-year-old said he is not thinking about his ranking and just wants to keep up the pace as long as he can.
"Well, it's so big. I cannot believe I won this tournament, beating Roger in a great final and level of tennis," he said of his first win at Indian Wells and his second straight ATP Tour title. "I don't care about the numbers. I just want to keep winning titles like this if I can, but the first thing is try to be healthy during the whole year and play where I like to play. Now I have to do a smart schedule on clay to feel 100 percent for the rest of the season."
Del Potro also won the title in Acapulco, Mexico, earlier this month when he beat three top-eight players in a row to clinch his 21st singles crown.
In the women's singles final, Japan's Naomi Osaka claimed her first career title with a commanding 6-3, 6-2 victory over Daria Kasatkina of Russia in a battle of 20-year-olds.
The unseeded Osaka became the youngest champion at Indian Wells since Ana Ivanovic was victorious a decade ago. She dropped only one set in the tournament.
Osaka ousted Maria Sharapova, fifth seed Karolina Pliskova and then world No. 1 Simona Halep on her way to the championship.
"If you put in a lot of hard work you can play well," said Osaka, who was playing in only her second final after being the runner-up in Tokyo in 2016. "If you try and believe in yourself, you can win. In the beginning of the year, I just wanted to play every match really well. Just focus one point at a time. I think I am doing that so I don't really mind where my ranking is because I am sure at the end of the year if I keep playing well like this it will be pretty high."
However, she will need to practice on her acceptance speeches.
"Hi, I'm Naomi,'" she started on Sunday, before quickly adding: "OK, never mind."
Known for her shyness, she was definitely more at home on the court than accepting her first trophy.
"This is probably going to be like the worst acceptance speech of all time," she said after forgetting the sponsors and supporters she wanted to thank.
Comments will be moderated. Keep comments relevant to the article. Remarks containing abusive and obscene language, personal attacks of any kind or promotion will be removed and the user banned. Final decision will be at the discretion of the Taipei Times.