Rabada faces ban over Smith shoulder bump
South Africa fast bowler Kagiso Rabada is in danger of being banned for the rest of the series after he was charged yesterday by match officials for intentionally bumping into Australia captain Steve Smith when he got him out on the first day of the second test in Port Elizabeth.
Rabada was charged with a level 2 breach of the International Cricket Council's code of conduct regarding inappropriate physical contact. Rabada bumped into Smith with his shoulder during his follow-through after dismissing the Australia skipper LBW on Friday at St George's Park.
Rabada has five demerit points on his disciplinary record and is to be banned for two Tests if he reaches eight demerit points. Level 2 offenses carry a penalty of three to four demerits, which would take Rabada over the threshold.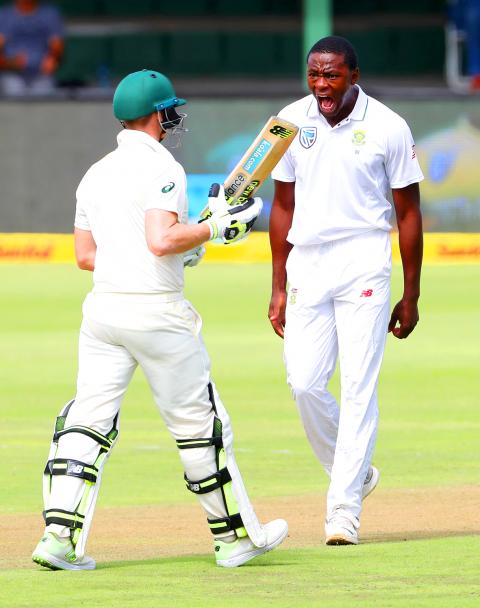 Kagiso Rabada of South Africa celebrates taking the wicket of Australia's Steve Smith on Friday in Port Elizabeth, South Africa.
Photo: Reuters
Rabada is to contest the charge on the basis that the contact with Smith was unintentional, South Africa team spokeswoman Lerato Malekutu said, adding that Rabada was to have a hearing later yesterday following the second day's play.
It is the second time the 22-year-old Rabada, ranked the No. 1 Test bowler in the world, has been charged over inappropriate on-field physical contact.
Last year, he was found guilty of deliberate physical contact with Sri Lanka's Niroshan Dickwella and was given three demerit points. He served a one-Test ban in England last year.
Rabada's is the fourth player disciplinary case of an ill-tempered South Africa-Australia series, which is only two days into the second of four Tests.
Australia spin bowler Nathan Lyon was fined for bringing the game into disrepute after celebrating a wicket in the first Test in Durban by intentionally dropping the ball on South Africa batsman AB de Villiers.
The animosity between the teams then spilled over in Durban, when Australia's David Warner and South Africa's Quinton de Kock were involved in a confrontation on a staircase near the dressing rooms during a break in play. A clearly angry Warner had to be restrained by teammates as he argued with De Kock.
Warner and De Kock were also fined and given demerit points, but are both playing in the second Test, as is Lyon.
Comments will be moderated. Keep comments relevant to the article. Remarks containing abusive and obscene language, personal attacks of any kind or promotion will be removed and the user banned. Final decision will be at the discretion of the Taipei Times.