Paralympics get under way with Slovakian gold
Slovakian skier Henrieta Farkasova yesterday won the first gold medal of the Pyeongchang Paralympics and the US clinched a hat-trick of victories as sporting action got under way.
Medals were up for grabs in alpine skiing and biathlon. Russian athletes, competing under a neutral flag after a mass doping scandal, clinched two golds, while France also won two.
The Paralympics opened on Friday with a ceremony that mixed spectacular light shows and fireworks with traditional Korean performances and modern pop music.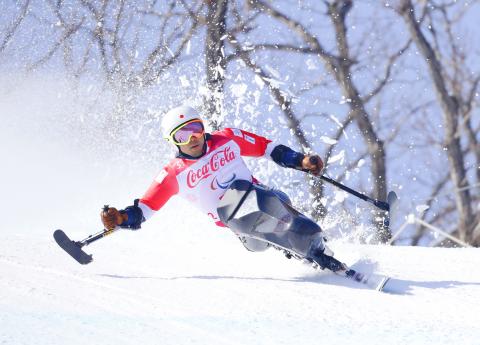 Akira Kano of Japan yesterday competes in the men's downhill, sitting, at the Winter Paralympics in Jeongseon, South Korea.
Photo: AP
North Korea was in focus as the nation's first two athletes to ever compete at a Winter Paralympics paraded into the Pyeongchang Olympic Stadium under their own nation's flag.
Slovakia's Farkasova was the first to take gold, skiing to victory in the women's vision-impaired downhill category, accompanied by her guide, Natalia Subrtova.
She completed the course at the Jeongseon Alpine Centre in 1 minute, 29.72 seconds, beating second-placed Millie Knight of Britain and her guide, Brett Wild, by 0.86 seconds.
It was Farkasova's sixth Paralympic gold, and she hailed her victory as "great, amazing... Hopefully we can inspire through our achievements and [show] others to strive and do their best."
The US, who have the biggest team at the Paralympics with 69 athletes, got off to a good start, wining three golds, one silver and a bronze.
In the biathlon, the US took gold and silver in the women's sit ski, with Kendall Gretsch coming first and Oksana Masters second.
Gretsch said her victory was "pretty unexpected."
"It's my first Paralympics, first race, so it's just a great way to kick off the week and hopefully [there's] more to come," she said.
Former US Navy Seal Daniel Cnossen took gold in the men's sit ski, while Andrew Kurka from Team USA won gold in the men's sitting downhill skiing, with Japan's Taiki Morii clinching silver.
In an echo of last month's Winter Olympics, 30 Russian athletes are competing as neutrals after the nation was banned over allegations of state-sponsored doping.
Russian biathletes Ekaterina Rumyantseva, competing in women's standing, and Mikhalina Lysova, in the women's vision-impaired category, both won gold.
Marie Bochet and Benjamin Daviet clinched France's first golds in women's standing downhill skiing and men's standing biathlon respectively.
The North Korean athletes are two cross-country skiers, Kim Jong-hyon and Ma Yu-chol. They had originally been expected to march alongside their South Korean counterparts at Friday's opening, but a row over how the unification flag should appear halted the plan.
Comments will be moderated. Keep comments relevant to the article. Remarks containing abusive and obscene language, personal attacks of any kind or promotion will be removed and the user banned. Final decision will be at the discretion of the Taipei Times.