Afghan women raise bar
Inside the Afghanistan National Powerlifting Federation's cramped gym, Rasheda Parhiz lies on a bench wearing a tunic over sweatpants and holding a 70kg weighted bar above her scarf-covered head.
The 40-year-old began powerlifting several years ago to help lose weight — she used to weigh 120kg and hid her ample frame under a burqa.
Now a fitter 82kg, Parhiz's ability to lift 100kg has brought the mother of three trophies and medals in local and regional competitions, which she keeps in a plastic shopping bag in her mud-brick home.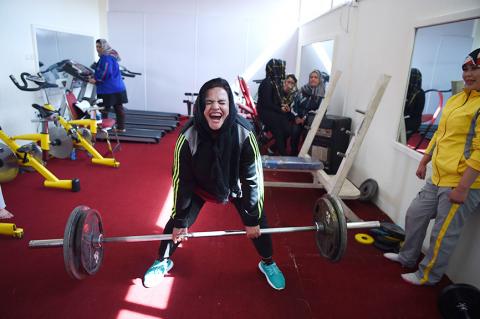 Afghanistan National Powerlifting Federation team member Rasheda Parhiz, center, performs a deadlift on Sunday in a training session at a women's gym in Kabul.
Photo: AFP
"We are too lazy to dust them," said her 22-year-old daughter Lema, explaining why they are not displayed in the living room window next to tea sets and thermos.
Several times a week Afghanistan's female powerlifting team squeezes into a small carpeted room in Kabul where they strip off their body-covering abayas and pump iron.
Lifting weights heavier than themselves, the women are also flexing their muscles in a deeply conservative and patriarchal country where sport has long been the domain of men.
The Afghan Olympic Committee started the federation seven years ago, but it has struggled to attract women, who are often discouraged from playing sport on the grounds of protecting their virtue.
Powerlifting is a branch of weightlifting using the squat, bench press and deadlift techniques, but without any moves which lift the weight vertically overhead.
There are 20 women on the national team compared with more than 100 in the men's squad, which also receives more official support, said Totakhail Shahpor, who has been the women's coach for the past three years after his predecessor absconded during a competition in Canada.
The 52-year-old former soldier considers it his duty to encourage and protect his team.
"I treat them like my daughters," Shahpor said. "If I imposed discipline like the army, the next day I would have no one left."
To keep them motivated, Shahpor pushes the women to take part in competitions even though each of them only receive 1,000 afghanis (US$14.47) a month — barely enough to cover transport costs.
"Look at their shirts and trousers, they do not even have shoes," he said pointing to Sadia Ahmadi's gray and yellow tracksuit that has a large patch on the thigh.
Ahmadi, 25, is the most successful member of the women's team, winning four gold medals at competitions in Uzbekistan, India and Kazakhstan, Shahpor said.
Despite the taboos around female sport, the women claim they enjoy the backing, even encouragement, of their fathers or husbands to do powerlifting.
"My husband is happy ... he is proud of me and pushing me," Parhiz said.
However, there are limits to his support and he would probably balk if powerlifting ever became an Olympic sport, she said.
Comments will be moderated. Keep comments relevant to the article. Remarks containing abusive and obscene language, personal attacks of any kind or promotion will be removed and the user banned. Final decision will be at the discretion of the Taipei Times.