Aiden Markram sees signs of hope in Proteas defeat
South Africa might have been beaten in the first Test against Australia, but opening batsman Aiden Markram said after a career-defining century that his team's hopes had been raised for the rest of the four-match series.
Australia yesterday took the final wicket of Quinton de Kock to dismiss the hosts for 298 and wrap up a 118-run victory.
Markram made 143 and led a stirring fightback after the side were reeling at 49-4 on Sunday, with their four most senior batsmen all failing to reach double figures.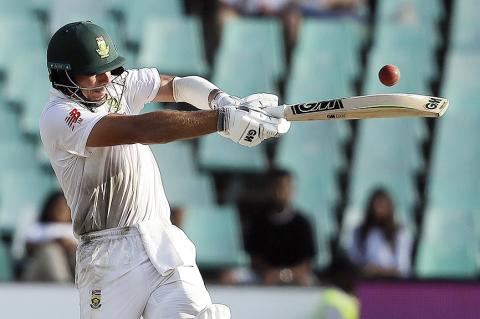 South Africa's Aiden Markram plays a shot against Australia on the fourth day of the first Test at Kingsmead in Durban, South Africa, on Sunday.
Photo: AP
"It definitely does give us confidence," Markram said. "It's a long series and every innings is vitally important in the context of the series. We would like to have done it better in the first dig, especially with the bat, but we showed a lot of fight today."
Markram praised Theunis de Bruyn, playing in his fourth Test, for taking on Australia fast bowler Mitchell Starc in a highly-charged over in which De Bruyn hit three boundaries and received an earful of abuse from the left-arm bowler.
De Bruyn made 36 in a fifth-wicket stand of 87 with Markram, who was then joined by De Kock in a 147-run partnership which raised flickering hopes of South Africa achieving an improbable victory.
That hope was extinguished when Markram was caught behind by wicketkeeper Tim Paine, standing up to Mitchell Marsh.
Three overs later Starc took three wickets in five balls to have South Africa nine wickets down.
He was robbed of a possible hat-trick when the umpires told Australia captain Steve Smith that play would be ended for bad light unless slow bowlers were used.
De Kock and Morne Morkel survived for nine overs against Smith and Nathan Lyon before play was finally called off.
Markram said South Africa's recovery from a disastrous start "showed a lot of fight and character, which is good going into the rest of the series."
Markram had made centuries against Bangladesh and Zimbabwe, two of cricket's lesser powers, but said performing against Australia in tough conditions was a personal highlight.
He said that although there was reverse swing there was minimal movement off the pitch.
"It was the sort of wicket where once you got in you could develop a plan," he said.
He said he was not bothered by attempts to unsettle him.
"There was a lot of chatter on the field. It's something I don't mind, it really keeps me in the game and it never really gets out of line. It's part of the game and makes success that bit more rewarding," he added.
Markram also had to deal with being involved in an incident which saw star batsman A.B. de Villiers run out for a duck.
The opener turned a ball from Lyon behind square-leg and did not respond when De Villiers called him through for a run.
De Villiers had to turn and tried to go back, but could not beat David Warner's throw to Lyon.
"It happens really quickly," Markram said. "David Warner is one of the best fielders in the world and as soon as I saw it I didn't think there was a run. It was very unfortunate. It wasn't nice to be at the other end watching A.B. being run out."
Additional reporting by staff writer
Comments will be moderated. Keep comments relevant to the article. Remarks containing abusive and obscene language, personal attacks of any kind or promotion will be removed and the user banned. Final decision will be at the discretion of the Taipei Times.