Wizards hold off James and new-look Cavaliers
Maybe life without John Wall will not be as miserable as the Wizards feared.
The All-Star break barely slowed them down and the Cavaliers could not stop them either.
Bradley Beal on Thursday scored 18 points, while Kelly Oubre Jr added 17 and tried to untie the sneakers of one of Cleveland's new players as the Wizards withstood a late assault by LeBron James to beat the new-look Cavaliers 110-103.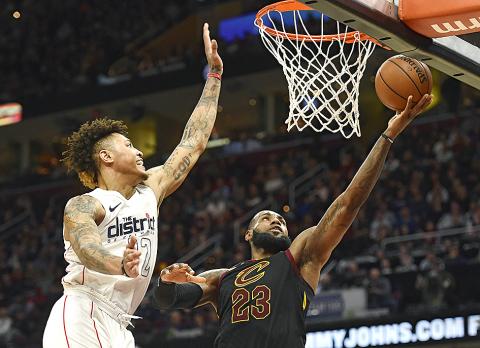 LeBron James of the Cleveland Cavaliers, right, goes to the basket against the Washington Wizards in their NBA game in Cleveland, Ohio, on Thursday.
Photo: David Richard-USA Today
The Wizards, who have been playing for weeks without Wall, their super-speedy star guard, nearly blew a late 11-point lead as James scored 14 straight points to pull the Cavs within 106-103, but Beal hit a driving layup before James missed a free throw and committed a lane violation while intentionally missing the second one as the Wizards held on.
"We hung together," Wizards coach Scott Brooks said. "We showed great resolve. That's what we talked about. Resiliency is what successful teams do in this league. We've been showing that. We've just got to keep doing it."
Washington are 8-2 since Wall went down with a knee injury.
Tomas Satoransky, who has been starting in Wall's spot, added 17 points, eight assists and did not have a turnover in 31 minutes.
James, back from being named Most Valuable Player at the All-Star Game, scored 32 — 14 in the fourth quarter — for the Cavaliers, who dropped to 2-1 since acquiring four new players before the trade deadline.
J.R. Smith added 15 for Cleveland.
Despite the loss, James was encouraged by the performance.
"I think we played well tonight, even though we lost," James said. "I hate losing, obviously, but I think the way we played, the way we shared the ball. Defensively, we were flying around as well and those guys, they just played better than us tonight. I like the start, I like the direction we're headed."
The Wizards spoiled the home debuts of Larry Nance Jr, George Hill, Rodney Hood and Jordan Clarkson, four new faces the Cavs are hoping can get them back to the NBA Finals, but there are more obstacles in the Eastern Conference than ever and the Wizards could be a much tougher outfit in the post-season — with or without Wall.
Washington overcame an early 12-point deficit and matched Cleveland's intensity.
"It was a great team effort," said Beal. "We know the games before the break and the game after the break are always the toughest ones to get, especially when you're playing a team like this. It was definitely a challenge for us. The rest of the year is going to be a challenge for us, but we did a great job starting out."
Oubre tried to give the Wizards an extra advantage when he reached over and tried to untie one of Hood's shoes.
"I was just joking," Oubre said. "I was down on my knees and his teammates were like: `Tie your shoes.' He laughed about it. He was trying to snitch on me to the ref. That's my guy, though."
Comments will be moderated. Keep comments relevant to the article. Remarks containing abusive and obscene language, personal attacks of any kind or promotion will be removed and the user banned. Final decision will be at the discretion of the Taipei Times.