Hanyu clinches gold, Ledecka stuns skiers
"Ice Prince" Yuzuru Hanyu yesterday clinched the first back-to-back men's Olympic figure skating titles in 66 years as snowboarder Ester Ledecka pulled off a major shock as she skied to women's super-G gold.
Hanyu lost his balance twice in his free skate, but a total score of 317.85 gave the peerless Japanese gold with room to spare over compatriot Shoma Uno and Spain's Javier Fernandez.
Nathan Chen of the US had earlier become the first skater to land six quads in competition, but despite his Olympic free-skate record of 215.08, it was only enough for fifth place.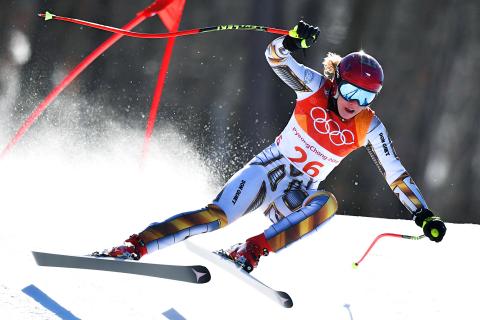 Ester Ledecka of the Czech Republic competes in the Winter Olympics women's super-G at the Jeongseon Alpine Center in Pyeongchang, South Korea, yesterday.
Photo: AFP
Hanyu, greeted by a shower of Winnie the Pooh stuffed toys, his mascot, air-kissed Uno and theatrically leaped onto the podium at the award ceremony.
The 23-year-old became the first man since Dick Button of the US in 1952 to take the title twice in a row — and into the bargain, won the landmark 1,000th gold medal in Winter Olympics history.
Hanyu was back on the ice competitively for the first time since injuring his right ankle in November last year.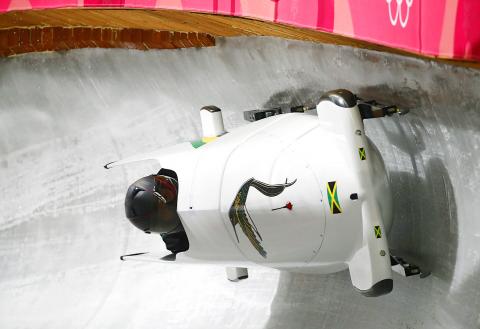 Jazmine Fenlator-Victorian and Carrie Russell of Jamaica take part in a bobsled training run at the Olympic Sliding Center in Pyeongchang, South Korea, yesterday.
Photo: Reuters
"My right foot really hung tough," Hanyu said. "I was so fortunate. I'm feeling gratitude. I was able to make a jump that I wanted to do with concentration. Anyway, it was good."
Meanwhile Ledecka of the Czech Republic pulled off one of the biggest surprises ever seen at the Games when she won the super-G as American superstar Lindsey Vonn finished sixth.
Ledecka, favorite in the snowboard parallel slalom later this week, clocked 1 minute, 21.11 seconds to edge defending champion Anna Veith of Austria by 0.01 seconds.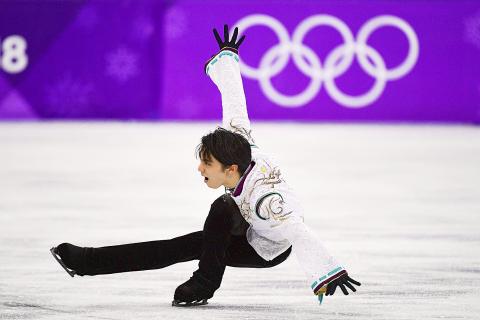 Japan's Yuzuru Hanyu competes in the Winter Olympics men's figure skating at the Gangneung Ice Arena in Gangneung, South Korea, yesterday.
Photo: AFP
Liechtenstein's Tina Weirather took bronze.
Not only did Ledecka deprive Veith of what looked like a rare double, she pushed Vonn back into sixth spot, the American star paying the price for a massive error that saw her lose valuable time at the bottom of the course.
Ledecka was stunned and open-mouthed with disbelief.
"All the other girls didn't risk a lot. There must be a lot of pressure on them. I was just trying to do my best run," Ledecka said. "I am so surprised about all of it. I'm really trying to win and do a good run every time, but I didn't really realize that this really can happen."
Vonn said the outcome was "definitely shocking."
"She beat me in training in Lake Louise — that was also surprising," Vonn said. "I feel like in the Olympics a lot of things can happen, it's not that she didn't deserve it, but there's a lot of pressure on the favorites."
At the Olympic Sliding Center, a 1,376m ice chute in the South Korean mountains, Jamaica's women made their bobsled debut in their original sled, despite the donation of a new model from a beer company following a dispute with their former coach.
Jamaican brewer Red Stripe pitched in after Jamaica's coach Sandra Kiriasis left the team last week and was reportedly demanding payment for use of their existing sled.
Red Stripe made its initial offer on Twitter and then clarified that "this is not a joke."
"The Games are an honor to compete in and as the No. 1 beer in Jamaica we want to help those athletes realize their dreams," a statement said.
Comments will be moderated. Keep comments relevant to the article. Remarks containing abusive and obscene language, personal attacks of any kind or promotion will be removed and the user banned. Final decision will be at the discretion of the Taipei Times.