Sangakkara calls for pay minimum to stop T20 exodus
Sri Lankan veteran Kumar Sangakkara has called for Test cricket to introduce a minimum match fee for all countries to stop young players ditching the long-form for lucrative Twenty20 (T20) leagues.
Sangakkara, the fifth-highest run scorer in the history of Test cricket, retired from the first-class game last year, but has continued playing for domestic T20 franchises around the world, including in this week's Hong Kong T20 Blitz.
The 40-year-old praised the shorter format for spreading the game's popularity to new markets, but warned that without change Test cricket could face a battle to remain relevant for young players and fans.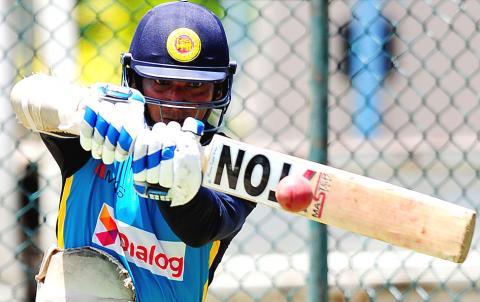 Sri Lankan cricketer Kumar Sangakkara plays a shot in a practice session at the Paikiasothy Saravanamuttu Stadium in Colombo on Aug. 19, 2015.
Photo: AFP
"T20 is the ideal format to introduce — you talk about the Americas, with China," Sangakkara told reporters yesterday. "Since its inception it's been a huge pillar of strength for world cricket."
"But there are a few negatives ... a lot of young players taking up T20 instead of playing international cricket. There are various things that have been discussed, about parity of pay, especially when it comes to match fees for Test cricket," he said.
"Shouldn't there be a blanket minimum pay for Test cricketers?" Sangakkara said. "The top countries are being paid a certain Test match fee — shouldn't that be reflected all throughout the Test-playing countries?"
International match fees paid to cricketers from different Test nations vary wildly, with the sport's so-called "Big Three" — India, England and Australia — far ahead of the rest.
A survey last year by ESPN CricInfo showed that Australia captain Steven Smith was due to earn US$1.47 million last year, while Zimbabwean skipper Graeme Cremer pocketed just US$86,000.
Twenty20 competitions have sprung up around the world, from Australia's Big Bash League and India's IPL which stretch out over many weeks to smaller competitions in Hong Kong, Bangladesh, and the United Arab Emirates, which last just a few days.
Players from poorer nations can often earn more in the Twenty20 world than by representing their countries at Test level.
The MCC World Cricket committee last month endorsed calls for wage reform at its annual meeting.
Fans as well as players need to be canvased on the changes required to keep Test cricket as the sport's pinnacle, including day-night and four-day Tests, Sangakkara said.
"We need to understand what Test cricket means to players and what it is to fans," he said. "Relevance in sport is so important in terms of not just growing the sport, but also sustaining it."
"I think international cricket is very strong still. For any player, I think the honor of representing their country be it in Test, one-dayers or T20 cricket, it's still the pinnacle of the game," he said.
Sangakkara, who is appearing for Galaxy Gladiators Lantau in this week's Hong Kong tournament, also praised the shorter format for extending his career.
"T20 is definitely the easiest format at my age to stay competitive in," said Sangakkara, who retired from the first-class game in September last year.
Sangakkara went out at the top with a remarkable final flourish for Surrey in the English county championship, finishing as the competition's top scorer with 1,491 runs at an average of 106.50.
"I'm definitely a has-been," he said.
Comments will be moderated. Keep comments relevant to the article. Remarks containing abusive and obscene language, personal attacks of any kind or promotion will be removed and the user banned. Final decision will be at the discretion of the Taipei Times.