Parker focused on future after his 'great' return
Friday night marked a milestone for Milwaukee Bucks forward Jabari Parker, but he was already looking forward to the next one in the moments afterward.
Parker made his return to the court for the Bucks for the first time since Feb. 8 last year in Milwaukee's 92-90 win over the New York Knicks. He had 12 points on 4-of-7 shooting while reaching his set 15-minute limit.
"It felt great," Parker told reporters post game. "But honestly, training myself to think about it as just getting better. It's not going to take just one game, a few games, just the whole process. That game didn't really stick out as much as people perceive it to be."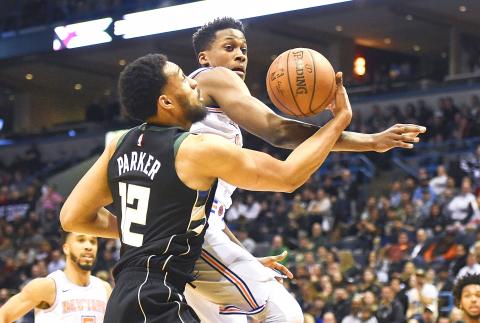 Milwaukee Bucks forward Jabari Parker, center, takes a shot while New York Knicks guard Frank Ntilikina, right, defends in the first quarter on Friday at the BMO Harris Bradley Center in Milwaukee, Wisconsin.
Photo: Benny Sieu-USA TODAY
Parker had been sidelined since he tore his left anterior cruciate ligament for the second time in his brief career.
His breakout 2016 to 2017 season was cut short after he averaged 20.1 points, 6.2 rebounds and 2.8 assists through 51 games before sustaining the injury.
Parker got his first true test of the knee in the final minute of the first quarter on Friday, driving the length of the court, planting and going up for a dunk. He drew a foul in the process and sunk one of his two free throws.
Interim coach Joe Prunty noted there is a progression plan in place for Parker, but did not say when his 15-minute restriction would be loosened.
"I thought he had a very good debut," Prunty said. "I thought there were a lot of positive things that he did out on the floor. One of the things we talked about a lot, there are certain things he does naturally. He can score the ball, he can make plays for himself and other people, but I thought defensively he was solid, was in the right spots."
"Again, there's a rhythm and timing to the game every time you step out there, and it's difficult when you've been off for a while and I thought he did a really nice job of fitting in and helping the team win the game," Prunty said.
The Bucks were victorious as Giannis Antetokounmpo broke a 90-90 tie when he put up a left-handed floater that went in with one second left on the clock.
Milwaukee's next game, and Parker's next test, is against the Brooklyn Nets today.
"The only way to go here is up," Parker said. "You can't beat the low of any point that I've been at any stage of these few months. Anything that I do from this point on is just to go up and that's a blessing."
Comments will be moderated. Keep comments relevant to the article. Remarks containing abusive and obscene language, personal attacks of any kind or promotion will be removed and the user banned. Final decision will be at the discretion of the Taipei Times.