Kyrie Irving scores 27 as Celtics edge the Nuggets
At last, the Boston Celtics found a way to get a win in the closing moments, but it was not easy.
Kyrie Irving on Monday scored 10 of his 27 points in the fourth quarter and Jaylen Brown hit a go-ahead three-pointer with 34 seconds remaining as the struggling Celtics edged the Denver Nuggets 111-110 despite blowing a big lead.
It was only Boston's second victory in seven games.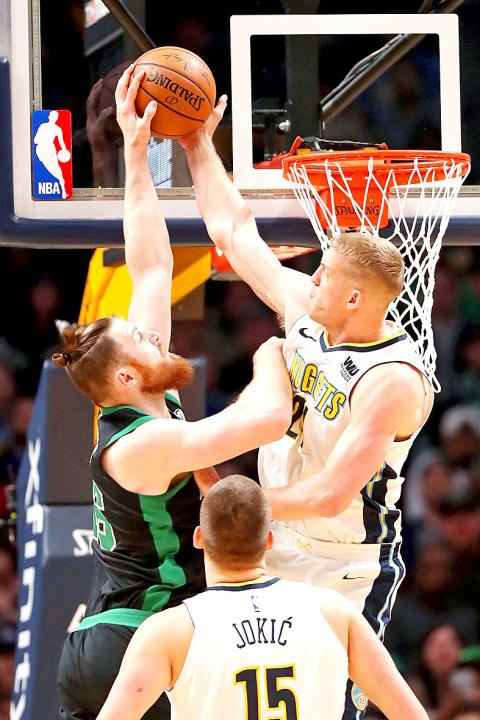 Mason Plumlee of the Denver Nuggets, right, blocks a shot by Aron Baynes of the Boston Celtics, left, in their NBA game in Denver, Colorado, on Monday.
Photo: AFP
"I thought we were gassed at the end of the game," Celtics coach Brad Stevens said. "We missed some defensive assignments, and I thought we missed some good opportunities on offense, but they found a way."
The Celtics had struggled in tight games over the past two weeks, with three losses in games decided by four points or fewer, including a 109-105 defeat to Golden State on Saturday.
Denver nearly added to their misery.
After Irving's miss with seven seconds to go, the Nuggets — not using a timeout — raced up the court and got a look at the buzzer, but Torrey Craig's tip-in of Will Barton's long attempt from three-point range was too late.
Afterward, Denver coach Michael Malone defended his decision not to use a timeout to set something up.
"[We] got a stop, didn't want them to set their defense," Malone said. "Will Barton has made plays like that before for us and I stand by that decision."
Irving finished 11 of 17 from the field to lead the Celtics.
Jayson Tatum added 20 points and Marcus Morris had 14 off the bench.
Boston blew a 20-point lead and trailed heading into the final period.
Then the Celtics could not hold onto a six-point advantage in the final two minutes as the Nuggets tied the game at 108-108 with 43 seconds to go.
Moments later, though, Al Horford fed Brown for the decisive three-pointer.
The second-year small forward had missed his first four three-point attempts.
"I was like, no way I'm missing this one," Brown said. "I was open. Everything that happened before didn't matter. I had to make the shot."
Nikola Jokic had a double-double by the first minute of the second half for Denver, finishing with 24 points and 11 rebounds.
Barton scored 19, Gary Harris 15 and Jamal Murray 14.
Mason Plumlee had 16 points and eight rebounds before leaving with a strained right calf in the fourth.
"We could have beat a really good and tough team, but we didn't," Jokic said. "We had a chance, but we didn't take it."
Comments will be moderated. Keep comments relevant to the article. Remarks containing abusive and obscene language, personal attacks of any kind or promotion will be removed and the user banned. Final decision will be at the discretion of the Taipei Times.