Nyman crashes, pulls out of race
Steven Nyman on Friday crashed in downhill training for the FIS Alpine Skiing World Cup on the Kandahar course for the second year in a row.
However, this time the US skier escaped relatively unharmed.
Nyman had to end his season early on Jan. 27 last year when he crashed during downhill practice.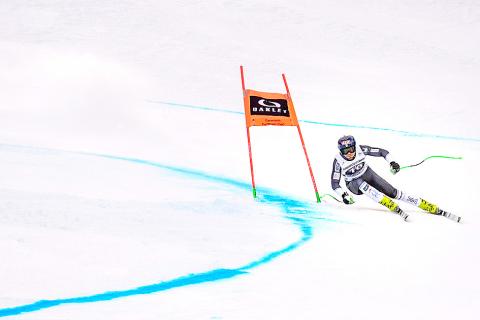 Steven Nyman skis in the first FIS Alpine Skiing World Cup training run for the men's downhill race in Garmisch-Partenkirchen, Germany, on Friday.
Photo: EPA
He went into the net on Friday before pulling himself up and skiing down the mountain.
Nyman had to skip yesterday's World Cup event, the last downhill race before the Pyeongchang Winter Olympics in South Korea next month.
"He's just going to rest his body for the Olympics. Eyes on the prize," US ski team press officer Megan Harrod said.
"My right knee is a little tweaked, but we'll see how it goes. I'll have the docs look at it, ice it and figure out how it reacts, wake up tomorrow and see what I do," Nyman said.
"Maybe I pushed too hard at one point. It's kind of a peely snow — it's hard underneath, but then a wet layer on top. I think I pushed too hard and just kind of did the splits. It was weird."
The incident brought back memories of Nyman's accident in Garmisch-Partenkirchen last year, when he was having the fastest run of the day until he crashed off a jump and tore his left knee. He had to be airlifted off the course.
Nyman, 26th in practice on Thursday, has been working hard to get back into this season, placing 41st at a downhill race in Val Gardena, Italy, last month, then 28th in Wengen, Switzerland, two weeks ago. He was 15th in Kitzbuehel, Austria, last week and 32nd in the Super giant slalom in Kitzbuehel the day before.
Nyman is captain of the US downhill squad.
Nyman has 11 World Cup podium finishes, but the last of his three victories was in Val Gardena in December 2014. His last podium was on the same course two years later.
Asked if the political situation and tensions in the region were having any effect on his preparations for Pyeongchang, Nyman said he was learning to shut a lot of things out.
"I live over here all winter. I rent a place in Innsbruck [Austria] for three months out of the year, so to be over here and not be super fluent in German, you kind of learn to not listen to a lot of things," Nyman said. "It's pretty nice."
Comments will be moderated. Keep comments relevant to the article. Remarks containing abusive and obscene language, personal attacks of any kind or promotion will be removed and the user banned. Final decision will be at the discretion of the Taipei Times.