Mancuso hangs cape in last race
Julia Mancuso donned a Wonder Woman outfit to lift her spirits, but the colorful former Olympic champion's final downhill run was not only sad, but painful.
The 33-year-old American, who has battled a hip problem, called time on her stellar career after accepting that a fifth Winter Olympics was out of reach.
Teammate Lindsey Vonn lay her head on her friend's shoulder and wept. That Vonn had missed her 79th World Cup victory because of a mistake on the downhill run was secondary to the retirement of her friend.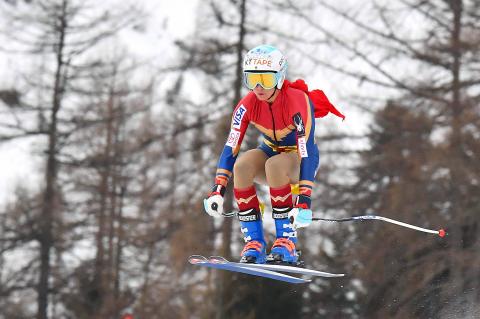 Julia Mancuso wears a Wonder Woman ski suit as she competes in the International Ski Federation Alpine World Cup women's downhill on Friday in Cortina d'Ampezzo, Italy.
Photo: AFP
"It's a sad day," Vonn said. "We've been skiing together since we were nine years old. We basically climbed the ladder of ski racing together. She's always pushed me. We've reached high levels of sport because we have each other."
Mancuso was kitted out in a superhero race suit for her final run down the Olympia delle Tofane course where she won her first World Cup medal in 2006.
Her last chance of making the US team for the Pyeongchang Games was in Cortina this weekend.
"Cortina is normally really sweet and easy," Mancuso said. "It all happened really fast. I realized that my body and hip injury could not keep up with my brain."
Mancuso said that she often had her best results when having fun and in the past competed in her lucky "Super Jules" tights and wore a tiara on the podium when she won Olympic gold and silver.
This time she chose Wonder Woman and the theme of superheroes.
"I felt that the crazier I would dress the less emotional I would be," Mancuso said tearfully. "It's strange. I'm not necessarily sad, but most of all the pain gradually got to me. Every race proved to be difficult."
However, she will be in South Korea working with US broadcaster NBC.
Known for her unconventional style and her ability to perform on the big stage, Mancuso is the most decorated US women's Olympic skier.
She won Olympic gold in the giant slalom in Turin 2006, silver in the downhill and combined in Vancouver in 2010, and bronze in the combined in Sochi four years ago.
She is tied with Vonn for most global championship medals won by a US woman with nine and has also stood on the World Cup podium 36 times, with seven wins, and started in 398 World Cup races.
She has not won a race since February 2012, with her last podium a third place in the World Cup downhill in Lake Louise, Canada, in 2014.
Vonn said Mancuso's style would be missed.
"If everyone is robotic it's boring. People who are pushing the limits, those are the characters like Bode [Miller]. Gutsy, ballsy, badass," she said.
Vonn on Friday was pipped to a 12th World Cup victory in Cortina with Italy's Sofia Goggia winning back-to-back downhills this week after holding off the American by 0.47 seconds.
Overall World Cup leader Mikaela Shiffrin, competing for the first time in the downhill in Cortina, took third by 0.84 seconds.
"It's really very emotional for me," Shiffrin said of Mancuso. "She was at her peak when I came onto the World Cup circuit and really inspired me. It's sad to see her go."
Comments will be moderated. Keep comments relevant to the article. Remarks containing abusive and obscene language, personal attacks of any kind or promotion will be removed and the user banned. Final decision will be at the discretion of the Taipei Times.