Chris Paul to the rescue as Rockets down Lakers
With James Harden in the locker room with a hamstring injury and the Houston Rockets desperate to end their losing streak, Chris Paul came to the rescue.
Harden on Sunday scored 40 points before leaving with the injury late in the fourth quarter, while Paul scored 15 of his 28 points in overtime as the Rockets snapped a five-game skid with a 148-142 double-overtime win over the Los Angeles Lakers.
"He just willed us to win and great players can do that," Rockets coach Mike D'Antoni said. "Certain guys can just say: 'We're not losing,' and 'Whatever it takes,' and that's what he said tonight and that's what he did."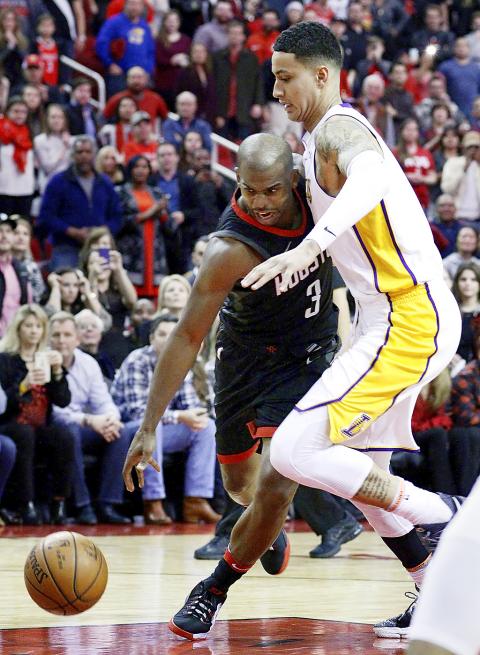 Chris Paul of the Houston Rockets, left, drives around Kyle Kuzma of the Los Angeles Lakers in their NBA game in Houston, Texas, on Sunday.
Photo: AP
Los Angeles led by as many as 17, but could not hold on as their losing streak stretched to six games.
Paul made a pair of free throws to tie it at 142-142 with about a minute left in the second overtime, before Tarik Black blocked Kyle Kuzma's shot on the other end to give Houston the ball back.
P.J. Tucker grabbed a rebound on a miss by Paul and put it back up to put Houston on top.
Tucker blocked a three-point attempt by Kuzma and Paul added two more free throws to make it 146-142 with 3 seconds remaining.
Paul made two more free throws after that to secure the win.
The Rockets had hoped to limit Paul's playing time in his second game back after missing three games with a groin injury, but with Harden out, he ended up playing 42 minutes.
"We worked too hard to let that game go," Paul said. "We had fought. Different guys had been in and out of the lineup. James carried us all game long and different guys had to step up, and it's just will at that point. Let's just figure out a way to win it."
Julius Randle set season highs with 29 points and 15 rebounds.
Comments will be moderated. Keep comments relevant to the article. Remarks containing abusive and obscene language, personal attacks of any kind or promotion will be removed and the user banned. Final decision will be at the discretion of the Taipei Times.