Tyler Johnson nets twice as Lightning rout Blue Jackets
Tyler Johnson and the Tampa Bay Lightning lit off some fireworks well ahead of midnight on New Year's Eve.
The NHL's best team on Sunday scored four goals in a span of 7 minutes, 23 seconds of the second period in a 5-0 rout of the Columbus Blue Jackets, sucking the energy out of a sellout crowd.
Johnson scored twice and Andre Vasilevskiy stopped all 21 shots to get his ninth career shutout.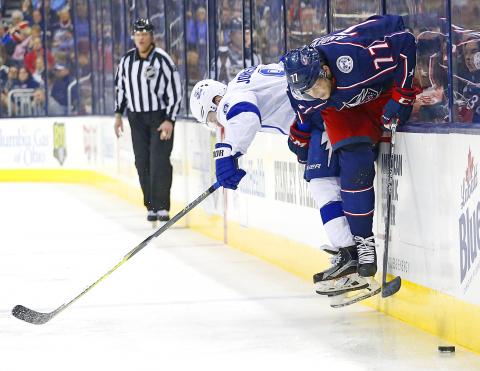 Tyler Johnson of the Tampa Bay Lightning, left, checks Josh Anderson of the Columbus Blue Jackets in their NHL game in Columbus, Ohio, on Sunday.
Photo: AP
Johnson's second-period goals extended his point streak to 12 games, tied for the longest in the league this season.
He has eight goals and 10 assists in that stretch.
Nikita Kucherov got his league-leading 25th goal of the season, while Steven Stamkos and Cory Conacher also scored for the Lightning.
Brayden Point, Mikhail Sergachev and Victor Hedman had two assists apiece.
Vasilevskiy did not have to work particularly hard in recording his league-leading fifth shutout of the season for the Lightning, who lead the NHL in wins and sit atop the Atlantic Division with a 28-8-2 record.
"I truly believe he's the best goalie in the world right now," Johnson said. "He's unbelievable. The saves he makes, it's crazy. He's a guy who works extremely hard and he has no ceiling. He's just going to keep getting better."
Joonas Korpisalo had 30 saves for Columbus. He started in place of Sergei Bobrovsky, who has struggled lately and was rested by coach John Tortorella.
The Blue Jackets were 6-6-2 last month and have slipped to third in the Metropolitan Division.
Columbus outshot the Lightning 12-5 in the opening period. They had two power plays and played much of the frame in Tampa Bay's zone, but could not capitalize.
The best chance was a clean breakaway by Nick Foligno with 1:35 left, but his shot was knocked down by Vasilevskiy.
"I think we gave up two breakaways at dicey times of the game, and [Vasilevskiy] was there to make the save, and when he does that for you, we get a little taller," Lightning coach Jon Cooper said.
Tampa Bay then broke through in the second, outshooting the Blue Jackets 23-6.
"They smelled blood, let's be honest," Foligno said. "We didn't do anything right in those 10, 12 minutes. We were just whacking pucks away, stick checking. It's what we do to teams when we smell blood. We got it handed to us."
Comments will be moderated. Keep comments relevant to the article. Remarks containing abusive and obscene language, personal attacks of any kind or promotion will be removed and the user banned. Final decision will be at the discretion of the Taipei Times.