Seahawks sink Cowboys in elimination game
Russell Wilson did not have to do much to keep alive Seattle's hopes for a sixth straight trip to the playoffs, despite the return of star Dallas running back Ezekiel Elliott from a six-game suspension.
Justin Coleman on Sunday put the Seahawks in front for good with a 30-yard interception return for a touchdown as Seattle beat the Cowboys 21-12 in a playoff elimination game.
Dak Prescott threw two interceptions and the Dallas offense did not score a touchdown, despite the reunion with his backfield mate, the one he shared a remarkable rookie season with a year ago when the Cowboys had a National Football Conference-best 13 wins.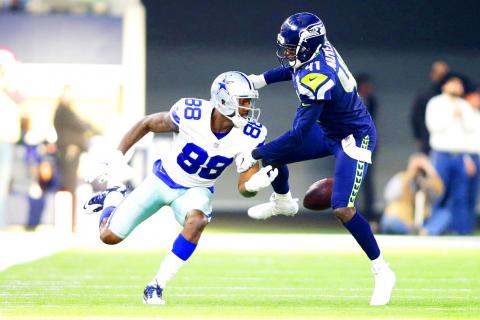 Dez Bryant of the Dallas Cowboys, left, fumbles after being hit by Byron Maxwell of the Seattle Seahawks in their NFL game in Arlington, Texas, on Sunday.
Photo: Tim Heitman-USA Today
Now Dallas (8-7) are eliminated from the post-season with the end of their three-game winning streak and the Seahawks (9-6) still have life after Wilson threw for two touchdowns, despite a career-low 93 yards passing.
"In these situations where it truly is a must-win game, we don't have to make anything up," receiver Doug Baldwin said. "We're well-prepared for it. The process that we've gone through the whole season really helped us today."
Coleman gave Seattle a 14-9 lead in the third quarter when he reached down to catch Prescott's badly overthrown pass to Elliott and ran untouched 30 yards for a touchdown.
It was the fourth pick-six of the season for Prescott, who threw just four interceptions last season when he was the NFL Offensive Rookie of the Year.
Prescott has 13 interceptions for this season.
The Seahawks were eliminated in the National Football Conference West race by the Los Angeles Rams' 27-23 win at Tennessee, but they can still make the post-season with some help, despite gaining just 136 total yards — their fewest since getting 135 in a 14-9 win over the St Louis Rams in 2013.
Seattle's first two offensive touchdowns were set up by pass interference penalties in the end zone.
The first was a three-yarder to Jimmy Graham, the second a six-yarder to Baldwin after running plays backed up the Seahawks both times.
The Cowboys, who lost their first three without Elliott before the winning streak, did not take it easy on last year's NFL rushing leader after his six-week layoff, giving him 15 carries for 73 yards in the first half.
The longest carry was a nine-yarder as he averaged 4.7 per carry.
"It's hard to get over," said Prescott, who was 21 of 34 for 182 yards. "I'm sure I'll get over it at some point, but right now's not the time. Didn't play well enough for us to win. Simple as that."
Comments will be moderated. Keep comments relevant to the article. Remarks containing abusive and obscene language, personal attacks of any kind or promotion will be removed and the user banned. Final decision will be at the discretion of the Taipei Times.